Post tagged "philadelphia"
Aug 21, 2019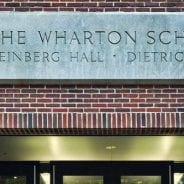 With an increase in female students and U.S. underrepresented minority students, the new Wharton full-time MBA Class of 2021 represents an even higher standard of diversity for one of the world's highest-regarded business schools.
Jun 6, 2019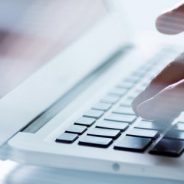 Have you ever wondered what it would be like to earn your MBA online? We wanted to take an in-depth look at the advantages of an Online MBA program and what it looks like to complete your graduate business education online—how long it will take, what activities will be available to you, and how it will enhance your career.
To that effect, we interviewed the admissions staff at some of the top brick and mortar business schools with leading Online MBA programs: CMU Tepper, Indiana Kelley, Michigan Ross, UNC Kenan-Flagler, and USC Marshall. Here's what we learned:
CMU Tepper School of Business Online MBA

The CMU Tepper School of Business Online MBA program is a hybrid program, meaning students attend live, interactive online classes two evenings a week (for 70 minutes each) and then work the rest of the time offline, at their own pace. Students take the same rigorous curriculum as full-time students and are taught by the same faculty and staff.
Duration: Flexible program duration
Travel: Six times a year, students meet in-person for Access Weekends in Pittsburgh, Silicon Valley, Philadelphia, and Washington, D.C.
Workload: You'll attend two, 70-minute live class sessions every week with an additional 3-5 hours of offline assignments.
CA: How do your Online MBA students take advantage of extracurricular activities (e.g., can they join a finance club, organize a tech conference, what are the similarities for an online program with the full-time program)?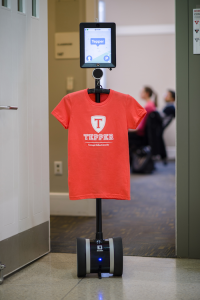 "The Tepper School part-time Online Hybrid MBA is structured to provide maximum flexibility without sacrificing the extra-curricular experience, which is an essential component of an MBA program. Our online students have access to various campus activities, including student clubs, speaker events, and career treks that enrich the academic experience and provide opportunities to connect with colleagues, alumni, and potential employers. We also have a TepperBot (picture attached), which  is a great way for students to actively join campus activities remotely. They can control the TepperBot's movements from their phones, adjust the height, roll through spaces. It's an excellent way for online students to be part of the on-campus experience.
Throughout their Tepper experience, online MBA students actively participate in student club activities; leadership coaching and workshops; corporate presentations and recruiting; and all that business school has to offer. Our online students have an active student leadership organization, and even started a virtual Friday afternoon happy hour!
CA: How do your Online MBA students take advantage of career resources. Do you offer the full-time MBA equivalent of on-campus recruiting?
"Our part-time Online Hybrid MBAs have access to the same career resources as our full-time students, including on-campus recruiting, corporate presentations, career treks to visit employers around the country, and connections to jobs at premier companies. Our top-ranked Masters Career Center provides career coaching from seasoned professionals to help them successfully manage career opportunities."
IU Kelley School of Business Online MBA

The IU Kelley Direct Online MBA is delivered completely online. Students must complete 54 units to graduate—27 credits of core courses and 27 credits of electives. Courses are taught by the same faculty that teach the full-time MBA, but students have the flexibility to fit the coursework into their busy schedule.  You can either participate in live lectures with your classmates or watch recorded lectures on your own schedule.
Duration: Two to four years
Travel: Students attend two Kelley Connect Weeks, which are intensive seven-day, in-person experiences on IU's Bloomington campus.
Workload: Live weekly classes are around 75 minutes in length in addition to prep work and additional study.
CA: How do your Online MBA students take advantage of co-curricular activities (e.g., can they join a finance club, organize a tech conference, what are the similarities for an online program with the full-time program)?
"Effective November 1, we have re-branded student services to the Office of Student Services and Advising. That unit is now responsible for co-curricular and experiential activities. What is true about an online MBA student is that they want to build a set of experiences that complement what they do in the classroom, but there is a lot of variability in terms of what they want to build.
Our co-curricular experiences have been divided into various buckets.
There are four-credit experiential learning opportunities. Specifically, there are global learning courses that offer two types of experiential learning. There is a consulting course where they work on a live project, and then there's an exploratory course where students spend a few weeks in a different country working with and learning from high-performing corporations outside the U.S.
We also offer a robust suite of affinity groups—both identity-oriented groups and functional groups. As an example, there are several events for online MBA students, including virtual happy hours and excursions to visit Warren Buffet in Nebraska.
Third, twice a year, we have a Global Connect Night where students get together and have refreshments with each other all across the world. Students entirely coordinate these events.
Finally, we have a high-impact suite of offerings from our Career Management Center and one-on-one career coaching."
CA: How do your Online MBA students take advantage of career resources. Do you offer the full-time MBA equivalent of on-campus recruiting?
"We have a five-phase career development model for our online MBA students that begins before a student's very first Kelley Connect Week. They are sent access to a website that allows them to begin pre-work on their career goals and what they're hoping to get out of their online MBA.
We recognize that most students in our program are primarily seekers looking to change their function, industry, or location, or they are career navigators looking to move up in their organization. So, as a first-year student, we ask them to complete career work early and then come to campus for a two-hour content session led by the Career Center to gain more insight into their options.
Then, our online MBA students have touch-points with their career coaches throughout their time in the program. Not only do they have access to the Career Center online, but they can check-in with their coach in person as well; it's up to the individual. Our career office also sends out regular communications with career tips, job offers, and more. Students can also participate in several 1.5-credit hour courses offered by our career office for job seekers, career navigators, consultants, and more."
Michigan Ross School of Business Online MBA


The Michigan Ross Online MBA (OMBA) is a flexible format that includes live class sessions, self-guided study, and leadership development training on the Ross campus. To graduate, students must complete 57 credit hours including 27 credits of core curriculum, 18 credits of electives, nine credits of in-person residencies, and three credits for an action-based learning project (MAP). It's a highly flexible, self-paced program.
Duration: Two or more years
Travel: Students must attend three in-person residencies on the Ross campus that take place Thursday through mid-Sunday.
Workload: Each 2.25-credit course requires students to participate in four live classes via the online platform.
CA: How do your Online MBA students take advantage of extracurricular activities (e.g., can they join a finance club, organize a tech conference, what are the similarities for an online program with the full-time program)?
"We will work with club leadership to devise ways to accommodate these students, knowing that this will be an enriching experience for both the online students and the clubs.  We are planning on using technology for students to participate remotely in events."
CA: How do your Online MBA students take advantage of career resources. Do you offer the full-time MBA equivalent of on-campus recruiting?
"Online students will be able to take part in the formal recruiting process if they wish.  We have a career professional dedicated to our PT students, who is familiar with their specific needs and common career paths. OMBA students will have access to comprehensive career development services to prepare them for recruiting. These include resume reviews, networking guidance, interview practice, and negotiation advice."
UNC Kenan-Flagler Business School MBA@UNC


The UNC Kenan-Flagler Business School MBA@UNC is an online MBA program where the teaching and coursework are delivered online. Students must complete a total of 62 credits, including a broad business foundation and an emphasis on strategic leadership. Weekly, students meet face-to-face online for collaborative sessions that build on coursework and foster stronger connections. However, using the mobile learning platform, students can complete coursework 24/7 from anywhere in the world.
Duration: Anytime between 18 to 36 months, as it fits their work/personal commitments.
Travel: Optional three-day intensive Global Summits are available every quarter, and students must attend two prior to graduation. Summits are held around the world and students can choose the location and term that best fits their schedule.
Workload: Throughout each week, students complete interactive assignments on their own time comprised of case studies, video simulations, group projects, and reading materials. Students then meet each week in a webcam-based online classroom of no more than 15 students to discuss the week's material with classmates and professors.
CA: How do your Online MBA students take advantage of extracurricular activities (e.g., can they join a finance club, organize a tech conference, what are the similarities for an online program with the full-time program)?
"Yes! Online MBA students at the University of North Carolina Kenan-Flagler Business School students engage in our many and very active student-led MBA clubs. Some use online social media channels for communication and promotion, while others hold virtual meetings and webinars. In some cities, they have regularly scheduled in-person social outings.
They also participate in events on campus–in-person or via live-stream–including speakers and conferences. Conferences include Carolina Women in Business, Careers with Impact Forum, Real Estate Conference, and Healthcare Club Conference.
For those students who join our in-person orientation, their networking/relationships begin before classes start. Then it occurs organically through group projects in courses, but they also use "cyber-rooms" (where they study with classmates and work on group projects) to run happy hours.
At our in-person summits (four per year – two in the U.S. and two in other countries), students spend a great deal of time creating and strengthening their networks and relationships. Many plan personal trips together before or after the summits."
CA: How do your Online MBA students take advantage of career resources. Do you offer the full-time MBA equivalent of on-campus recruiting?
"Our students take advantage of the school's many career resources, including:
Every student participates in a 360 Multirater process at the beginning of the program and conducts a one-hour debrief with an Executive Coach to help understand their strengths and areas for improvement as a leader.
Our Career & Leadership team conducts over 400 additional (optional) individual, one-hour personalized coaching sessions annually for our online students on a variety of topics, including developing a personalized action plan, assistance with job search, working through leadership challenges with their team, onboarding into a new role, etc.
We conduct nearly 100 Career & Leadership programs (in-person events, webinars, networking forums, etc.) annually on topics ranging from leadership development to industry education and preparation sessions, to tactical career search elements. We deliver many of these ourselves; well also offer them in collaboration with national experts when appropriate.
We offer a complementary suite of recruiting activities for our working professional students. These include virtual career fairs, networking events with employers, student, and alumni panels, and two in-person career fairs per year, in addition to the MBA National Conferences, which provide company networking and interview opportunities as well.
We participate in a wide variety of national MBA career fairs (Forte, Prospanica, MBA Veterans Conference, ROMBA, National Black, etc.) where we provide on-site support.
The long history of the MBA@UNC program and UNC Kenan-Flagler Business School has helped us grow a strong student and alumni base at top companies. Students have exposure to this network through industry/functional panels; our 17-city alumni networking summer series; and ongoing, informal events throughout the year at our various alumni chapters both nationally and internationally. We have about 37,000 alumni living and working in 86 countries."
USC Marshall School of Business Online MBA


The USC Marshall Online MBA offers a unique, integrated curriculum designed for the online platform. Each class is taught weekly via live, interactive class discussions and asynchronous coursework. To graduate, students must complete 51 credits to graduate or six courses: Role of the Manager; Fundamentals of Business; Opportunity Recognition and Implementation; Managing Inside the Firm; Managing Outside Firm; and Business Environment & Leadership.
Duration: 21 months
Travel: Students must participate in a one-week, on-campus residency
Workload: Every course requires two meetings per week for about one to two hours for each live class meeting—typically, Monday through Thursday from 5 pm to 10 pm. On average, students are expected to spend between 20-30 hours per week on coursework.
CA: How do your Online MBA students take advantage of extracurricular activities (e.g., can they join a finance club, organize a tech conference, what are the similarities for an online program with the full-time program)?
"The Marshall online MBA students may join the student organizations, attend all campus events, and participate in USC and Marshall alumni events. They are fully USC Marshall students. Some have attended alumni events in their region. Similar to the residential program, students may serve as cohort ambassadors, graduate with all of the residential MBA students and with the same diploma. Some have engaged in entrepreneurship competitions. Many attend the monthly virtual conversations with executives."
CA: How do your Online MBA students take advantage of career resources. Do you offer the full-time MBA equivalent of on-campus recruiting?
"Because 100 percent of the students are fully employed–meaning they also cannot pursue internships–and nearly 40 percent are financially supported by their employers, and because the average work experience is 10+ years, OMBA students have a different set of career resource needs than our residential MBAs. When the Marshall admissions committee interviews final candidates, we explain the career options to avoid any later disappointments. Our Online MBA students consistently make appointments with the Online MBA career coaches for individual career counseling, most use the Marshall alumni network, and some attend on-campus job fairs. A few have even hired cohort-mates, and four OMBAs started a new company together."
---
This article has been edited and republished from its original source, Clear Admit.
May 28, 2019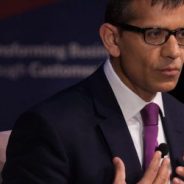 What's the next step for employers and educators who want to move the data analytics field forward? That's the question that top industry leaders and educators discussed during a Wharton School town hall titled, "The Future is Now: Closing the Data Analytics Skills Gap."
Put together by the Wharton Customer Analytics Initiative (WCAI) and nonprofit WorkingNation, the event kicked off with a keynote address by LinkedIn co-founder Allen Blue. He spoke about why it's so important to fill the analytics skills gap before handing off the talk to further panelists from Comcast, PwC, the Gates Foundation, Penn Health, Morgan Stanley, and more. In the end, they all came to the same conclusion; data analytics job opportunities will continue to grow, so the need for data analytics skills will increase in proportion.
However, opening up data analytics positions to a broader range of backgrounds is only the first step. There's also a need to close the gender gap and to enrich data analytics education, which means building it into core curricula as early as possible. Melanie Harris, the Chief Information Officer of the Philadelphia School District, spoke about the K-8 digital literacy program, and how it's introducing the gamification of coding by the second grade.
But what needs to be at the forefront of all this change is employers hiring people based on skills over pedigree. According to Jake Schwartz, the Co-Founder and CEO of General Assembly, "I think in the future, we're going to find really creative ways of putting together talent needs with potential alternative pools of talent, and figuring out how to use education as a bridge to get people [where] they want to be and where the companies really need them."
Read the full report and watch clips from the panelists here.
---
This article has been edited and republished with permissions from its original source, Clear Admit.
May 27, 2019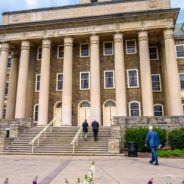 Hopeful applicants to the full-time MBA Class of 2022 at the Wharton School have some new deadlines to remember. In addition, the school revealed its next rounds of MBA/MA–Lauder and JD/MBA deadlines.
Wharton Full-Time MBA Deadlines
Round One
Application Deadline: Sep. 17, 2019
Interview Decision: Oct. 27, 2019
Decision Release: Dec. 18, 2019
Round Two
Application Deadline: Jan. 7, 2020
Interview Decision: Feb. 13, 2020
Decision Release: March 26, 2020
Round Three
Application Deadline: April 1, 2020
Interview Decision: April 16, 2020
Decision Release: May 8, 2020
Wharton MBA/MA–Lauder and JD/MBA Deadlines
Round One
Application Deadline: Sep. 17, 2019
Decision Release: Dec. 18, 2019
Round Two
Application Deadline: Jan. 7, 2020
Decision Release: March 26, 2020
---
Learn more about the Wharton School MBA programs here.
May 14, 2019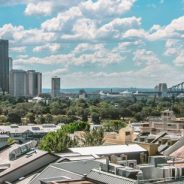 While a career in real estate is not one of the most popular options for MBA graduates, it is a solid choice. The U.S. real estate industry pulls in over $166 billion in revenue each year, and markets in India, China, and other emerging economies are poised to expand. So, the question is, if you're looking to go to school in the Northeast, where are the best MBA programs to help build a career in the industry? We've highlighted five of our favorite Northeast real estate programs below.
The Best Northeast Real Estate MBA Programs


The NYU Stern School of Business offers full-time MBA students a chance to specialize in real estate. According to the school, it "provides rigorous training in the development, investment, and financing of real estate projects." Students who choose the specializing are taught to think strategically about real estate in primary and secondary markets including the legal, taxation, and regulatory environments they'll encounter.
Real estate MBA curriculum includes classes such as:
Real Estate Development and Entrepreneurship
Real Estate Transactions
Real Estate Investment Strategies
Urban Systems
Real Estate Outside the Classroom:
Center of Real Estate Finance: Established in 2012, the Center is dedicated to expanding the School's course offerings and career services in real estate. It's open to both MBAs and undergraduates alike and offers monthly events, research and more.
MBA Real Estate Club: The Stern Real Estate Club (SREC) offers guest lectures, panel discussions, mixers, site visits, and case competitions for MBA students interested in expanding their real estate experience and insight.



The Georgetown University McDonough School of Business also offers a specialization in real estate for MBA students, which can include an intensive learning experience (ILE) in real estate development. ILEs are elective courses that offer client-centered work and experiential learning opportunity off campus in a concentrated time format.
MBA students interested in real estate can take courses in:
Real Estate Private/Public Equity
Real Estate Private/Public Debt
Negotiations
Fixed Income Analysis
Real Estate Outside the Classroom
Steer Center for Global Real Estate: The Steers Center "offers students unparalleled access to the real estate industry at a global level." Students gain hands-on experience with the D.C. real estate market through a range of activities from alumni mentoring to internships, job contacts, and more.
Real Estate Industry Career Coach: Georgetown offers a career coach with specific industry knowledge and relationships in real estate. This career coach will help MBA students with their resume, cover letter, mock interviews, and networking strategy.


At The Wharton School, MBA students can major in real estate. This major includes two required courses in real estate investment and real estate development. The goal of the major is to "prepare students to be leaders in the real estate industry" and provide the necessary quantitative and qualitative tools to be successful. Offered since 1985, the major has grown in scope and size over the years.
Additional courses in real estate that Wharton MBA students can enjoy:
Global Real Estate: Risk, Politics, and Culture
Urban Real Estate Economics
Real Estate Law
Real Estate Entrepreneurship
Real Estate Outside the Classroom
Samuel Zell & Robert Lurie Real Estate Center: Each year, the Real Estate Center sponsors conferences, seminars, and special programs for students and faculty interested in real estate. Established in 1983, it promotes excellence in real estate education and research.
Wharton Real Estate Club: The Wharton Real Estate Club provides career development, mentorship, and networking opportunities for students at Wharton. Of particular note are the treks and tours that allow students to meet prospective employers, visit project sites, and gain first-hand experience.

The Columbia Business School's MBA Real Estate program "provides students an unparalleled opportunity to expand their entrepreneurial skills while focusing on real estate finance and investment management."
The program encourages students to view real estate as both a physical and financial product by emphasizing a blend of theory and practice. Throughout the curriculum, students work on 65-plus proprietary real estate business cases taught by real estate professionals.
The real estate curriculum differs every term, but it includes courses such as:
Real Estate Finance
Real Estate Transactions
Real Estate Portfolio Management
Social Impact Real Estate Investing and Development
Real Estate Outside the Classroom
Paul Milstein Center for Real Estate: The Center for Real Estate integrates the theoretical and practical knowledge of real estate. It offers regularly hosted events including panel discussions, conferences, alumni career breakfasts, and symposiums
Fellowships & Scholarships: Uniquely, Columbia offers multiple fellowships and scholarships for MBA students interested in real estate. Awards can be as much as $50,000 a year and are both merit-based and need-based.
Full-time MBA students at the Rutgers Business School can customize their education with a real estate concentration. In total, students who choose this path will take six courses in real estate including strategic management. They can also pursue a dual concentration in finance and real estate, which requires them to take a course in aggregate economic analysis.
Other potential real estate courses that MBA students can take, include:
Real Estate Finance
Real Estate Capital Markets
Market Analysis and Valuation
Property Management and Real Estate Investment Management
Real Estate Outside the Classroom
Center for Real Estate: The Rutgers Center for Real Estate is a dynamic hub for students, academics, and professionals. It aims to educate, research, and exchange ideas on real estate. Currently, more than 95 real estate professionals lend their influence to the Center.
Rutgers Real Estate Club: The Club is a "place for people interested in real estate, internships, and everything business. It brings together experienced speakers for a variety of events and opportunities.
May 10, 2019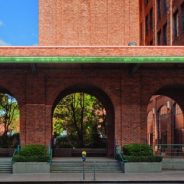 The 2018-19 Penn Wharton Entrepreneurship Startup Challenge took place on May 3 with 27 teams from across Penn to compete for a chance to win $135,000 in cash and prizes. Eliot Ingram, who has more than 21 years of experience in MBA admissions and is the founder of Clear Admit, headed out to Wharton's Huntsman's Hall to experience the event first hand.
Here's what his experience was like.
Choosing the Finalists
The morning was taken up by 27 semi-finalist teams presenting in front of a panel of judges. From there, the teams were narrowed down to eight finalists who would present in the afternoon. When Ingram arrived at 1:30 p.m., he was just in time to hear the final pitches. Each team was given about six minutes to present and then had about 12 minutes to answer questions from four judges, all of whom had experience as venture capitalists.
Team Presentations
According to Ingram, the teams gave high-quality presentations. Compared to other early-stage investor conferences, Igram felt these teams were competitive, and it was clear Penn Startup venture did a great job coaching each team through the process.
"They each did a great job of conveying the key parts of an investor pitch," he said. "In addition, the management teams seemed to be a good fit for the business ideas they were presenting. Furthermore, each of the teams did a good job of answering the questions posed by the judges."
The results were especially impressive given the tight time restriction for each pitch. The teams had to choose what to focus on and make a good argument all in six minutes. Most teams focused on the market size, problem, their solution, and why their team had a competitive advantage rather than financial projection or exit strategies, which must have been a deliberate decision.
The Eight Competitors
Aerate: Aerate is an innovative air conditioning unit that is 20 times more efficient than current air conditioners. Given the vast market for air conditioning, the rising middle class in India, and the harm that current air conditioners do to the environment, they offered a compelling, scalable tech solution that met a broad market while limiting the environmental impact (team members: Spencer Collins, Jake Fine, Ashwin Kishen, Yann Pfitzer, Conner Sendel, Sam Weintraub).
Strella Biotech: Strella Biotech offers an innovative and patented way to help fruit packers minimize food waste and maximize produce quality. They do this by using biosensors that measure the ethylene in fruit in order to determine which fruit is ripe and needs to be taken out of the warehouse and sold in the market (team members: Katherine Sizov, Malika Shukurova, Reginald Lamaute, Zuyang Liu).
Minimize: Minimize is a wearable device that counteracts hand tremors using the same technology that allows buildings to survive earthquakes. It can reduce tremors by up to 95 percent for Essential Tremor and Parkinson Disease patients (team member: Maanav Narula).
Halo: Halo is a digital monitor attached to taxis or Uber/Lyft cars, which allows advertisers to offer location-enabled digital ads while providing the driver with incremental revenue (team members: Kenan Saleh, Faizan Bhatty, Nabeel Farooqi, Ryanne Fadel).
Clove: Clove is a shoe design company that creates a shoe customized for health care professionals who spend a lot of time on their feet walking around. Their idea is to build a brand in the health care industry and have brand devotion be the key barrier to entry (team members: Joe Ammon, Jordyn Amoroso, Paula Belatti).
#PeriodPainFree: #PeriodPainFree offers a women's health solution based on Chinese herbal medicine and modern technology. It's a personalized solution to help the 80 percent of women who experience period pains (team members: Lulu Ge, Nicole Glathe).
Aavrani: Aavrani offers a premium skincare product line inspired by India's ancient beauty rituals. One of the team members had experience growing a skin care product line from $3 million to $50 million, so they had the expertise needed to deliver clean, non-toxic products. (Team members: Rooshy Roychoudhury, Justin Silver, Nina Davuluri)
Sigo Insurance: Sigo Insurance offers an auto insurance product tailored for non-traditional or high-risk customers. The company brings the insurance process online to reduce operating costs and remove predatory fees (team members: Nestor Hugo Solari, Julio Erdos).
Long Day
Eight pitches over 2.5 hours is a lot of information over a long time, which was challenging to handle and remain engaged.
"To be honest, while all of the presentations were quite good, after about an hour of listening to three pitches, my mind was getting fatigued with the amount of information being presented," Ingram remembers. "In fact, I think that the first three teams had a decided advantage in terms of maintaining audience interest, particularly since the first team that presented won first place and the second team that presented won 2nd place."
The Winners
The winners were:
Aerate: Grand Prize, Blank Award Winner, Gloeckner Undergraduate Award Winner, & People's Choice Award Winner
Strella Biotech: Runner-Up
Minimize: Innovation Award
Halo: Launch Award
Overall, Ingram was quite impressed with the high quality of the teams and their presentations.
"There are clearly some talented innovators within the Penn student community," Ingram says. "In addition, it's clear that the Penn Start Up Business Plan competition did a good job of helping these teams refine their pitches and getting them ready to meet with investors."
---
This Penn entrepreneurship article has been edited and republished with permissions from its original source, Clear Admit.
Apr 9, 2019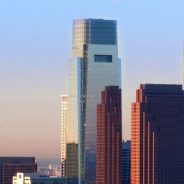 Telecommunications firms help keep people connected. Did you know that 781 billion text messages are sent every month in the United States? That means that, on average, Americans send and receive about 94 text messages per day. More importantly, did you know that an estimated 240 million calls are made to 9-1-1 in the U.S. each year? In many areas, 80 percent of these calls are from mobile devices. These numbers put into perspective the importance of telecommunications, and the need for continued innovation in those fields. Continue reading…
Mar 18, 2019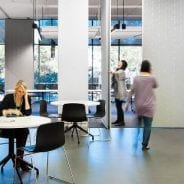 Global health care is one of the fastest growing sectors in 2019, with Deloitte expecting spending to reach $10.059 trillion by 2022. Thanks to aging and growing populations, you can expect a greater prevalence of chronic diseases, ultimately translating to exponential advances in innovative technologies, medicines, and care.
For MBA graduates, this translates into a huge potential for job opportunities in the health care sector. In particular, there are opportunities for:
New innovative technologies and personalized programs to engage with consumers.
Better data security and ownership.
Increased health care delivery and mobility.
One of the companies at the leading edge of this sector is Merck. Continue reading…
Mar 1, 2019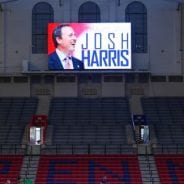 Let's take a look at some of the biggest stories from this week, including Harvard Online expanding its program.
---
Wharton School Receives $10 Million Gift from Josh and Marjorie Harris – Wharton News
The Wharton School of the University of Pennsylvania recently announced a major gift that will strengthen the school's programming in alternative investments.
The Joshua J. Harris Alternative Investments Program brings students, faculty, and leaders in the industry together to explore the latest advancements in hedge fund management, private equity, investment management, and venture capital. Named for 1986 grad Joshua Harris and his wife, Marjorie, the donation of $10 million will not only enhance the curriculum, but will also enable Wharton to sponsor multiple events on the latest developments in this class of investing.
"The Harris' extraordinary gift … will significantly expand student opportunities, advance new knowledge, and meaningfully engage the University community, which are key priorities for Penn," says University President Amy Gutmann.
Josh and Marjorie Harris are also founders of the Wharton Private Equity Professorship, and Josh is a member of Wharton's Board of Overseers. The couple's support of the school extends also to endowments for scholarships and Penn athletics. Josh Harris is founder of Apollo Global Management, a worldwide leader in alternative investment. His business ventures have brought him to the world of sports management. Currently, Josh is a majority owner of the nearby Philadelphia 76ers and the NHL's New Jersey Devils. He is also a current minority owner of Crystal Palace in the EPL.
Of his involvement at the school, Harris says:
"I know first-hand that Wharton students are creative, entrepreneurial, and eager for new challenges—attributes that the great leaders of the industry possess. I look forward to the Harris Program inspiring our students to pursue transformative opportunities and develop into future leaders of the industry."
You can read more about the Harris family's donation here.
---
The Future of Healthcare Symposium – Pepperdine News
On March 21, 2019, the Pepperdine Graziadio School will host its 5th Annual Future of Healthcare Symposium, which will address the growing presence of artificial intelligence and smart machines in healthcare delivery systems.
Keynote speakers are Jeff Stibel, Ph.D., author, USA Today columnist and Vice Chairperson of Dun & Bradstreet; and Professor Eric Topol, MD, Founder and Director of The Scripps Translational Science Institute and Executive Vice President of The Scripps Research Institute.
Dr. Stibel received an honorary doctorate from Graziadio, and is also the recipient of a brain and behavior fellowship from Brown University. His company, BrainGate, has employed AI to treat neurological disorders. Stibel is also a thought leader on methods of keeping the brain healthy in the digital age.
Dr. Topol's presentation, Deep Medicine: How Artificial Intelligence Can Make Healthcare Human Again, will examine the ways in which smart technology can humanize medical treatments as opposed to distancing patients from their caregivers. He will also explore genomics and digital medicine in the training of medical staff.
Panelists will discuss the ways in which technologies such as AI have enhanced patient experience while improving business models at various organizations.
For more on the symposium, click here, and check out some highlights of last year's event below.
---
Harvard Business School Online Announces Two New Courses, Leadership Principles and Global Business – Harvard Newsroom
Harvard Business School online will offer two new courses this spring, expanding choices for those who pursue the degree as they advance their careers.
The new Leadership Principles course aims to give students practice in developing a leadership style, or in honing an existing style for the best workplace outcomes. Students will have the opportunity to interact with their peers via case studies and presentations during this course.
In the Global Business course, professors who are also heads of global organizations will address macroeconomic indicators and the power of effective public policy.
Patrick Mullane, Executive Director of Harvard Business School Online, says of the new offerings:
"We're pleased to offer these new courses to help leaders better drive their businesses and propel their careers during volatile times … Professors Joshua Margolis and Tony Mayo are extraordinary faculty who will instill confidence and strengthen leadership capabilities for professionals ready to take the next step. Forest Reinhardt is a world-class economist who will equip participants with the tools they need to anticipate and capitalize on global developments."
Visit Harvard's online course guide for more info on cost, dates, and program details.
---
Findings: Should I Extend My Brand? – Tuck News
Kevin Lane Keller, the E.B. Osborn Professor of Marketing at Dartmouth College's Tuck School of Business recently shared some knowledge on the concept of 'brand stretching,' in which companies known for one exceptionally popular product decide to diversify. His research was recently featured on Tuck's news page.
Levis, for example, once attempted to launch a line of three-piece suits. Which, rather predictably, did not sell. The suit concept was too far a departure for consumers that were accustomed to Levis jeans. The company then launched Levis Cotton Dockers, which (for better or for worse) became such a huge-seller that Levis was able to drop their name from the brand now known simply as "Dockers."
Keller's theory is that company's can expand best into new product lines with small incremental steps.
"By introducing a series of closely related but increasingly distant extensions, brands can enter product categories that would have been much more difficult, or perhaps even impossible, to enter directly," Keller notes. Another example of this is Crayola, which was known at one time for just crayons, but which then expanded ultimately to become the leading brand for kids' craft-based products of all types.
This kind of brand expansion takes time, Keller cautions, and companies should be wary of expecting success at the outset of any new product venture. He offers three distinct elements for brand stretch success. An expansion must be desirable from a consumer standpoint, differentiated from a competitive standpoint, and deliverable from the company standpoint.
Keller points out the fact that most new products fail, so developer are wise to focus on the 'differentiation' part of brand expansion.
---
Double Victory for MBA Teams at UCLA Energy Competition – Haas Newsroom
Teams from Berkeley Haas School of Business recently earned both first and second place in UCLA's 6th Annual Challenges in Energy Case Competition on February 8-10, 2019.
The teams were faced with the challenge of how to monetize the state of California's race toward electric transit, particularly in light of the 2028 Olympic Games coming to Los Angeles. The teams were allowed to be involved at any part of the product supply chain, and they were allowed to model themselves as either new or existing companies.
The LA Cleantech Incubator is collaborating with local government and business, including the electric utility SoCal Edison to surpass the city's goal by 25 percent for use of electricity for transportation. The first place team, Team Vinculara, proposed a blockchain-based platform that would aid in distributing low carbon fuel standard credits to owners of electric vehicle fleets.
Second place Team Metromile proposed combining Metromile's (California's pay per-mile auto insurance program) with a cash advance to encourage use of electric vehicles, while pushing the company to become the preferred provider of auto insurance.
"All the teams worked really hard and we were honored to be chosen as finalists … When the judges announced that both first and second teams went to Haas, I felt especially proud to share the stage with my classmates," says CiCi Saekow of Team Metromile.
For the full press release, visit Berkeley Haas' website.
Feb 7, 2019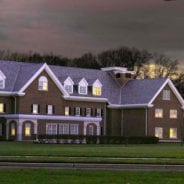 In our latest installment of the MetroMBA "5 Questions" series, we speak with Pasquale Quintero, MBA Director at the at the TCNJ School of Business. Quintero talks about the school's new MBA program, the "T-Style" curriculum, and the best food you can get in Trenton, NJ.
---
Why do you believe TCNJ introduced its new MBA program?
"The College of New Jersey School of Business is delivering a contemporary, relevant, highly competitive MBA education that provides both near-term and long-term benefits to early career professionals. Employers want employees with strong skill sets in a specific area and a broad understanding of business on which they can build. Employees want to build successful and stable careers. Therefore, the School of Business determined students need immediate applicable specialized skills, hence the creation of the 'T-Style' curriculum."
What can you expect for the first year of the program?
"The 'T-Style' offers students the ability to specialize in Data Analytics, Finance, or Strategy, Innovation and Leadership during their first year of study. In the second year, students will round out their education by taking courses designed to equip them with the tools to be effective managers. This approach provides the student with depth, breadth, and an early return on investment with a graduate certificate after their first year of study."
What are the differences between the TCNJ MBA and other business schools?
• "First, our unique 'T-Style' curriculum offers students the benefit of deep dive learning in a specialization in Data Analytics, Finance or Strategy, Innovation and Leadership during their first year of study. Students will gain enhanced skills to apply in their day-to-day decision-making.
• Second, the program will have a business practitioner associated with each course. The faculty will use the practitioner to help reinforce and expand upon the application of MBA concepts in practice.
• Third, the program is offered in a hybrid format (online and face-to-face), which will allow students to enroll in the MBA program without disrupting their personal and professional obligations.
• Students meet in class for eight hours on Saturdays, six times in the fall and spring, plus four times in the summer. When not meeting face-to-face, students will complete their coursework online. Winter courses will be offered 100 percent online.
• Finally, the program is price competitively."
What is one major advantage TCNJ provides in the new program?
"The innovative 'T-Style' curriculum as it is taking a different approach to graduate management education. After just one year students can demonstrate real progress in a specialty area after just seven courses."
Where can I get some good food in Trenton?
"On campus there are some great restaurants such as Mexican Mariachi, Piccolo Pronto, and Yummy Asian Cuisine. I've heard good things about Cafe '72 near campus, and there are plenty of great restaurants to choose from in downtown Princeton."