Oct 25, 2019

The Wharton School's Director of Admissions Blair Mannix and Director of Student Life Eddie Banks-Crosson recently shared deeper insights into the class profile of the new MBA Class of 2021. To begin, the latest group of candidates is closer to gender parity than ever before. This year, 47 percent of students identify as women. Banks-Crosson said, "If we're talking about diversity and inclusion, women matter, and I think that women are saying globally, that, 'We matter,' and so, we should be leading that charge, and I think that's what that feels like within this class." And gender parity is only one piece of the Wharton 2021 MBA class puzzle.
Continue reading…
Oct 3, 2019

Promising undergraduate students outside of the University of Pennsylvania will now have a chance to participate in The Wharton School MBA deferred admissions program. This adds to the Wharton School's existing Moelis Advance Access Program for UPenn undergraduates and the MBA sub-matriculation program for Wharton undergraduates.
Continue reading…
Sep 30, 2019


Join the world's largest MBA tour in Philadelphia!
An MBA is a distinction in the workplace and a designation in the world of business. However, more importantly, it's a confidence booster, a way of thinking analytically and critically, and a training ground for making better personal and professional decisions.
This event will answer all of your MBA-related questions through presentations, networking opportunities, and valuable interactions with recruiters from 25+ top business schools.
In addition, you'll also receive the following for free: a professional LinkedIn Headshot, your resume reviewed, access to a pool of scholarships worth $7M and much more.
All of this is FREE of charge for those attending, so register today! Space is limited.
Aug 21, 2019

With an increase in female students and U.S. underrepresented minority students, the new Wharton full-time MBA Class of 2021 represents an even higher standard of diversity for one of the world's highest-regarded business schools.
Jun 6, 2019
Have you ever wondered what it would be like to earn your MBA online? We wanted to take an in-depth look at the advantages of an Online MBA program and what it looks like to complete your graduate business education online—how long it will take, what activities will be available to you, and how it will enhance your career.
To that effect, we interviewed the admissions staff at some of the top brick and mortar business schools with leading Online MBA programs: CMU Tepper, Indiana Kelley, Michigan Ross, UNC Kenan-Flagler, and USC Marshall. Here's what we learned:
CMU Tepper School of Business Online MBA

The CMU Tepper School of Business Online MBA program is a hybrid program, meaning students attend live, interactive online classes two evenings a week (for 70 minutes each) and then work the rest of the time offline, at their own pace. Students take the same rigorous curriculum as full-time students and are taught by the same faculty and staff.
Duration: Flexible program duration
Travel: Six times a year, students meet in-person for Access Weekends in Pittsburgh, Silicon Valley, Philadelphia, and Washington, D.C.
Workload: You'll attend two, 70-minute live class sessions every week with an additional 3-5 hours of offline assignments.
CA: How do your Online MBA students take advantage of extracurricular activities (e.g., can they join a finance club, organize a tech conference, what are the similarities for an online program with the full-time program)?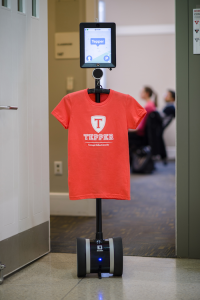 "The Tepper School part-time Online Hybrid MBA is structured to provide maximum flexibility without sacrificing the extra-curricular experience, which is an essential component of an MBA program. Our online students have access to various campus activities, including student clubs, speaker events, and career treks that enrich the academic experience and provide opportunities to connect with colleagues, alumni, and potential employers. We also have a TepperBot (picture attached), which  is a great way for students to actively join campus activities remotely. They can control the TepperBot's movements from their phones, adjust the height, roll through spaces. It's an excellent way for online students to be part of the on-campus experience.
Throughout their Tepper experience, online MBA students actively participate in student club activities; leadership coaching and workshops; corporate presentations and recruiting; and all that business school has to offer. Our online students have an active student leadership organization, and even started a virtual Friday afternoon happy hour!
CA: How do your Online MBA students take advantage of career resources. Do you offer the full-time MBA equivalent of on-campus recruiting?
"Our part-time Online Hybrid MBAs have access to the same career resources as our full-time students, including on-campus recruiting, corporate presentations, career treks to visit employers around the country, and connections to jobs at premier companies. Our top-ranked Masters Career Center provides career coaching from seasoned professionals to help them successfully manage career opportunities."
IU Kelley School of Business Online MBA

The IU Kelley Direct Online MBA is delivered completely online. Students must complete 54 units to graduate—27 credits of core courses and 27 credits of electives. Courses are taught by the same faculty that teach the full-time MBA, but students have the flexibility to fit the coursework into their busy schedule.  You can either participate in live lectures with your classmates or watch recorded lectures on your own schedule.
Duration: Two to four years
Travel: Students attend two Kelley Connect Weeks, which are intensive seven-day, in-person experiences on IU's Bloomington campus.
Workload: Live weekly classes are around 75 minutes in length in addition to prep work and additional study.
CA: How do your Online MBA students take advantage of co-curricular activities (e.g., can they join a finance club, organize a tech conference, what are the similarities for an online program with the full-time program)?
"Effective November 1, we have re-branded student services to the Office of Student Services and Advising. That unit is now responsible for co-curricular and experiential activities. What is true about an online MBA student is that they want to build a set of experiences that complement what they do in the classroom, but there is a lot of variability in terms of what they want to build.
Our co-curricular experiences have been divided into various buckets.
There are four-credit experiential learning opportunities. Specifically, there are global learning courses that offer two types of experiential learning. There is a consulting course where they work on a live project, and then there's an exploratory course where students spend a few weeks in a different country working with and learning from high-performing corporations outside the U.S.
We also offer a robust suite of affinity groups—both identity-oriented groups and functional groups. As an example, there are several events for online MBA students, including virtual happy hours and excursions to visit Warren Buffet in Nebraska.
Third, twice a year, we have a Global Connect Night where students get together and have refreshments with each other all across the world. Students entirely coordinate these events.
Finally, we have a high-impact suite of offerings from our Career Management Center and one-on-one career coaching."
CA: How do your Online MBA students take advantage of career resources. Do you offer the full-time MBA equivalent of on-campus recruiting?
"We have a five-phase career development model for our online MBA students that begins before a student's very first Kelley Connect Week. They are sent access to a website that allows them to begin pre-work on their career goals and what they're hoping to get out of their online MBA.
We recognize that most students in our program are primarily seekers looking to change their function, industry, or location, or they are career navigators looking to move up in their organization. So, as a first-year student, we ask them to complete career work early and then come to campus for a two-hour content session led by the Career Center to gain more insight into their options.
Then, our online MBA students have touch-points with their career coaches throughout their time in the program. Not only do they have access to the Career Center online, but they can check-in with their coach in person as well; it's up to the individual. Our career office also sends out regular communications with career tips, job offers, and more. Students can also participate in several 1.5-credit hour courses offered by our career office for job seekers, career navigators, consultants, and more."
Michigan Ross School of Business Online MBA


The Michigan Ross Online MBA (OMBA) is a flexible format that includes live class sessions, self-guided study, and leadership development training on the Ross campus. To graduate, students must complete 57 credit hours including 27 credits of core curriculum, 18 credits of electives, nine credits of in-person residencies, and three credits for an action-based learning project (MAP). It's a highly flexible, self-paced program.
Duration: Two or more years
Travel: Students must attend three in-person residencies on the Ross campus that take place Thursday through mid-Sunday.
Workload: Each 2.25-credit course requires students to participate in four live classes via the online platform.
CA: How do your Online MBA students take advantage of extracurricular activities (e.g., can they join a finance club, organize a tech conference, what are the similarities for an online program with the full-time program)?
"We will work with club leadership to devise ways to accommodate these students, knowing that this will be an enriching experience for both the online students and the clubs.  We are planning on using technology for students to participate remotely in events."
CA: How do your Online MBA students take advantage of career resources. Do you offer the full-time MBA equivalent of on-campus recruiting?
"Online students will be able to take part in the formal recruiting process if they wish.  We have a career professional dedicated to our PT students, who is familiar with their specific needs and common career paths. OMBA students will have access to comprehensive career development services to prepare them for recruiting. These include resume reviews, networking guidance, interview practice, and negotiation advice."
UNC Kenan-Flagler Business School MBA@UNC


The UNC Kenan-Flagler Business School MBA@UNC is an online MBA program where the teaching and coursework are delivered online. Students must complete a total of 62 credits, including a broad business foundation and an emphasis on strategic leadership. Weekly, students meet face-to-face online for collaborative sessions that build on coursework and foster stronger connections. However, using the mobile learning platform, students can complete coursework 24/7 from anywhere in the world.
Duration: Anytime between 18 to 36 months, as it fits their work/personal commitments.
Travel: Optional three-day intensive Global Summits are available every quarter, and students must attend two prior to graduation. Summits are held around the world and students can choose the location and term that best fits their schedule.
Workload: Throughout each week, students complete interactive assignments on their own time comprised of case studies, video simulations, group projects, and reading materials. Students then meet each week in a webcam-based online classroom of no more than 15 students to discuss the week's material with classmates and professors.
CA: How do your Online MBA students take advantage of extracurricular activities (e.g., can they join a finance club, organize a tech conference, what are the similarities for an online program with the full-time program)?
"Yes! Online MBA students at the University of North Carolina Kenan-Flagler Business School students engage in our many and very active student-led MBA clubs. Some use online social media channels for communication and promotion, while others hold virtual meetings and webinars. In some cities, they have regularly scheduled in-person social outings.
They also participate in events on campus–in-person or via live-stream–including speakers and conferences. Conferences include Carolina Women in Business, Careers with Impact Forum, Real Estate Conference, and Healthcare Club Conference.
For those students who join our in-person orientation, their networking/relationships begin before classes start. Then it occurs organically through group projects in courses, but they also use "cyber-rooms" (where they study with classmates and work on group projects) to run happy hours.
At our in-person summits (four per year – two in the U.S. and two in other countries), students spend a great deal of time creating and strengthening their networks and relationships. Many plan personal trips together before or after the summits."
CA: How do your Online MBA students take advantage of career resources. Do you offer the full-time MBA equivalent of on-campus recruiting?
"Our students take advantage of the school's many career resources, including:
Every student participates in a 360 Multirater process at the beginning of the program and conducts a one-hour debrief with an Executive Coach to help understand their strengths and areas for improvement as a leader.
Our Career & Leadership team conducts over 400 additional (optional) individual, one-hour personalized coaching sessions annually for our online students on a variety of topics, including developing a personalized action plan, assistance with job search, working through leadership challenges with their team, onboarding into a new role, etc.
We conduct nearly 100 Career & Leadership programs (in-person events, webinars, networking forums, etc.) annually on topics ranging from leadership development to industry education and preparation sessions, to tactical career search elements. We deliver many of these ourselves; well also offer them in collaboration with national experts when appropriate.
We offer a complementary suite of recruiting activities for our working professional students. These include virtual career fairs, networking events with employers, student, and alumni panels, and two in-person career fairs per year, in addition to the MBA National Conferences, which provide company networking and interview opportunities as well.
We participate in a wide variety of national MBA career fairs (Forte, Prospanica, MBA Veterans Conference, ROMBA, National Black, etc.) where we provide on-site support.
The long history of the MBA@UNC program and UNC Kenan-Flagler Business School has helped us grow a strong student and alumni base at top companies. Students have exposure to this network through industry/functional panels; our 17-city alumni networking summer series; and ongoing, informal events throughout the year at our various alumni chapters both nationally and internationally. We have about 37,000 alumni living and working in 86 countries."
USC Marshall School of Business Online MBA


The USC Marshall Online MBA offers a unique, integrated curriculum designed for the online platform. Each class is taught weekly via live, interactive class discussions and asynchronous coursework. To graduate, students must complete 51 credits to graduate or six courses: Role of the Manager; Fundamentals of Business; Opportunity Recognition and Implementation; Managing Inside the Firm; Managing Outside Firm; and Business Environment & Leadership.
Duration: 21 months
Travel: Students must participate in a one-week, on-campus residency
Workload: Every course requires two meetings per week for about one to two hours for each live class meeting—typically, Monday through Thursday from 5 pm to 10 pm. On average, students are expected to spend between 20-30 hours per week on coursework.
CA: How do your Online MBA students take advantage of extracurricular activities (e.g., can they join a finance club, organize a tech conference, what are the similarities for an online program with the full-time program)?
"The Marshall online MBA students may join the student organizations, attend all campus events, and participate in USC and Marshall alumni events. They are fully USC Marshall students. Some have attended alumni events in their region. Similar to the residential program, students may serve as cohort ambassadors, graduate with all of the residential MBA students and with the same diploma. Some have engaged in entrepreneurship competitions. Many attend the monthly virtual conversations with executives."
CA: How do your Online MBA students take advantage of career resources. Do you offer the full-time MBA equivalent of on-campus recruiting?
"Because 100 percent of the students are fully employed–meaning they also cannot pursue internships–and nearly 40 percent are financially supported by their employers, and because the average work experience is 10+ years, OMBA students have a different set of career resource needs than our residential MBAs. When the Marshall admissions committee interviews final candidates, we explain the career options to avoid any later disappointments. Our Online MBA students consistently make appointments with the Online MBA career coaches for individual career counseling, most use the Marshall alumni network, and some attend on-campus job fairs. A few have even hired cohort-mates, and four OMBAs started a new company together."
---
This article has been edited and republished from its original source, Clear Admit.