Which U.S. Business Schools Have The Highest Enrollment Rate?

Just before the end of the calendar year, U.S. News & World Report unveiled a list of the 10 business schools with the highest enrollment rates in the United States. The list is part of the publication's ongoing 'The U.S. News Short List' series.
Leading the way, unsurprisingly, was Harvard Business School, which enrolled a staggering 90.7 percent of all applicants that applied in fall 2015. Harvard came in 1st place with a five percent cushion above West Texas A&M University, and nearly seven percentage points better than Stanford's Graduate School of Business.
Only three school's ranked among the top ten had more than 1,000 applicants last fall: Harvard Business School (1,033), Columbia Business School (1,048) and The Wharton School at the University of Pennsylvania (1,302). Columbia boasted an enrollment rate of 72.7 percent and Wharton featured a rate of 65.7 percent.
In order to qualify for the publication's list the school also had to accept at least 100 students. This means that much smaller schools like the aforementioned West Texas A&M University have high acceptance rates but don't come close to the number of overall applicants that Harvard Business School or Stanford GSB do.
Among the 80 schools that publicly submitted enrollment data the average enrollment rate hovered just below 49 percent. Unceremoniously, Hofstra University's Zarb School of Business came in last place among qualified schools with a reported enrollment rate of 25.8 percent.
U.S. News compiled a complete chart (seen below) of the top 10 schools, complete with the number of students that submitted applications, enrollment, the yield ratio and where the school ranks among the publication's overall list of the best business schools in the country. In that list, Harvard Business School also came in first place, followed by Stanford GSB and Chicago University's Booth School of Business, which both tied for second place.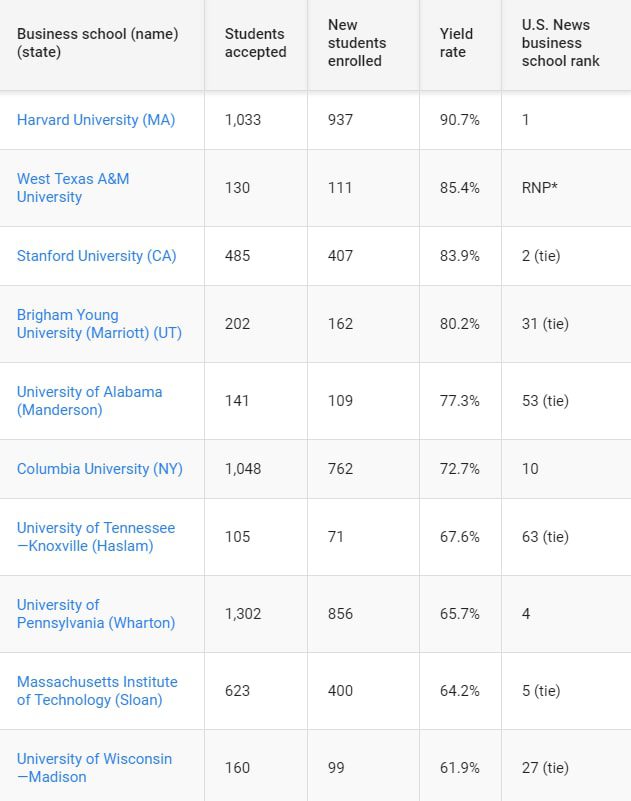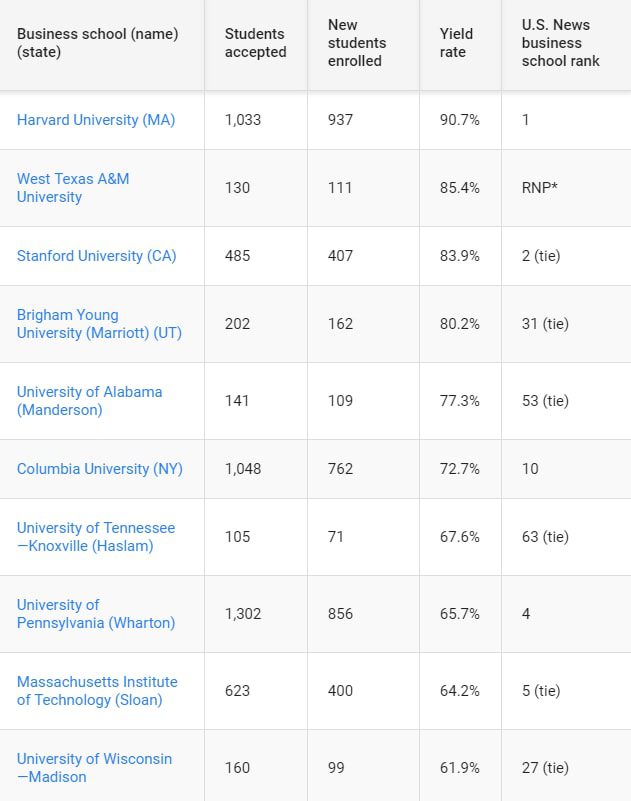 About the Author