MBA on the Lake: Higher Learning in Chicago & Toronto

To have some type of natural source to balance out the cacophony of city life is crucial to a healthy mind. Not every major city is a concrete jungle, completely broken off from its former natural self or its surroundings. It might surprise city slickers the amount of wilderness opportunities that exist just outside their doorstep.
Take Toronto, for instance. Situated on the shoulder of Lake Ontario, Toronto is surrounded by plateaus, deep forest, ravines, and three rivers. While other Canadian cities may beg to differ, Toronto is the financial and cultural capital of the country. It has long been a hub for migration since the days of the Huron and Iroquois and houses the five largest financial institutions in Canada.
As the heart of American transportation and distribution, Chicago's metropolitan reputation belies its abundance of natural splendors. Located at the toe of Lake Michigan, the Second City plays host to a wide array of green spaces—arboretums, nature centers, conservatories, and botanical gardens—as well as lakeside walking and biking paths.
Both Chicago and Toronto are world centers for higher education and research, yet offer resplendent surroundings to maintain a balanced state of mind. Both offer much more affordable living situations than New York or San Francisco and are highly underrated for their cultural appeal. Whichever you choose, you will find established, reliable education in your pursuit for the proper MBA. Last month, we analyzed the best part-time offerings in both metros, but let's take a closer look at the full-time MBA options.
Our Favorite Toronto Full-Time MBA Programs
York University – Schulich School of Business
The Schulich School of Business at York University offers 18 MBA specializations. In addition to full-time programs, the school also accommodate working students with part-time programs that offer both day and evening courses. Students are also able to switch between full and part-time status during their tenure to suit their needs. In 2016, 89 percent of students were hired within three months of graduation by 140 companies. Graduates were employed with an average salary of $91,860 USD and an average signing bonus of $12,050.
McMaster University – DeGroote School of Business
DeGroote School of Business at McMaster University offers full-time and part-time options, as well as a three-year paid work term co-op schedule. Full-time applicants are required to have one year of full-time continuous managerial, professional, or technical work experience (this is where the Co-op plan can come in handy—work as you go). The school offers seven specializations and International study. About 94 percent of recent graduates were employed within six months (over the last two years) with an average starting salary of $71,930 USD.
Western University Canada – Ivey Business School
The Western University Canada Ivey Business School is technically located just outside of Toronto, in London, Ontario. The school offers a full-time program that gives students an opportunity to work with over 200 recruiters, with about 66 percent of graduates finding jobs in Canada. In 2017, 91 percent of the graduating class received a job offer by September 1. Average starting salaries were typically around $90,000 USD with an average signing bonus of $15,000. Other compensations averaged at $9,875.
---
---
University of Toronto – Rotman School of Management
Students in the Rotman School of Management full-time MBA program are offered 16 major options and more than 90 electives to allow for a very customizable experience. Between 2016 and 2017, 85 percent of full-time Rotman MBA students were employed within six months of graduation and 80 percent landed jobs just within three months. Average starting salaries were $85,000 USD with an average signing bonus of $13,500.
Ryerson University – Ted Rogers School of Management
MBA applicants at the Ted Rogers School of Management at Ryerson University are given two full-time options: the Global MBA or an MBA in the Management of Technology and Innovation (MBA-MTI). Their Global MBA program strives to help their graduates "understand the global context of various industries and have the knowledge necessary to drive innovation and deliver as capable and confident leaders." The MBA-MTI helps students "gain the skills needed to manage within companies that are focused on tech and innovation." Last year, about 80.3 percent of graduates found employment within three months of graduation and earned an average starting salary of $89,250 USD.
Our Favorite Chicago Full-Time MBA Programs
Booth School of Business – University of Chicago
The University of Chicago Booth School of Business offers what the school calls the "world's most flexible MBA program," and is regarded by U.S. News & World Report as the third best full-time offering in the U.S. The curriculum consists of 20 classes—nine mandatory and 11 courses tailored to personal interest—plus a Leadership Effectiveness and Development (LEAD) program. As of September 2017, an absurd 97.1 percent of graduates reported having received full-time job offers within three months, with 95.3 percent accepted offers in that time. Average starting salaries were an impressive $125,000 with an average starting bonus of $25,000.
Kellogg School of Management – Northwestern University
The Kellogg School of Management at Northwestern University offers two full-time MBA variations, either to be completed in one or two years. The school's 2017 employment report, which can be downloaded here, detailed that 94.1 percent of graduates received job offers within three months and 90.8 percent of those grads accepted job offers. The average starting salaries for graduates with three-to-five years of work experience was an unsurprisingly lavish $128,686.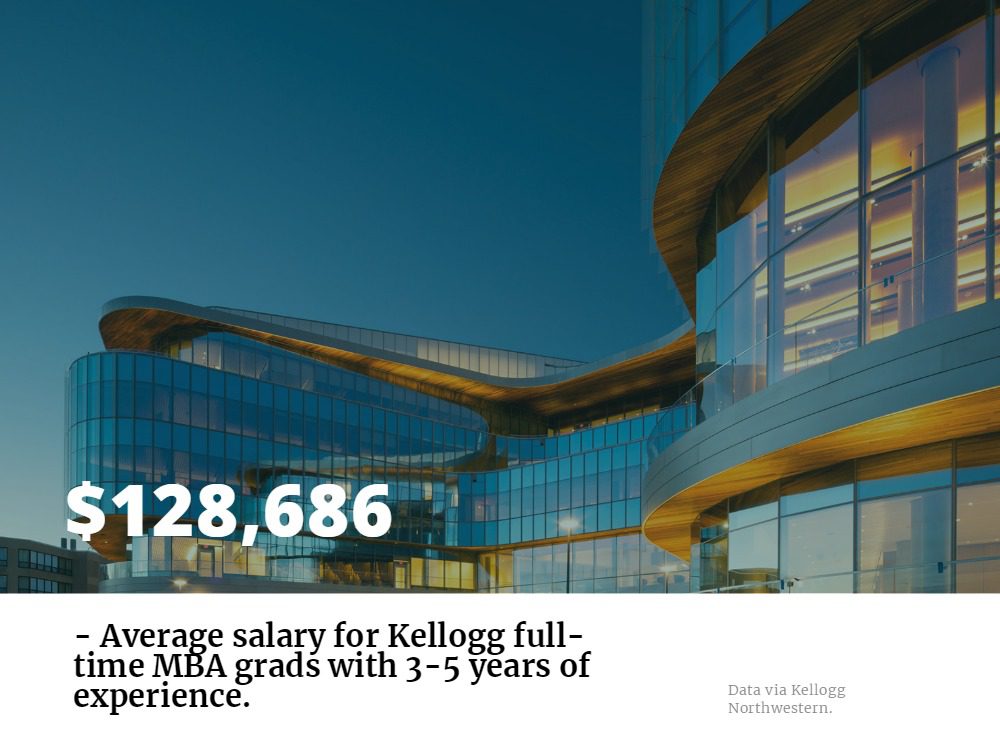 Like the Booth School of Business, when comparing Chicago and Toronto programs, financial gain is clearly an advantage for those who elect to study in the U.S. However, perhaps unsurprisingly, schools like Kellogg come with a steeper tuition cost. Applicants for the One Year full-time program should expect to pay more than $133,000 for the entire program, while those in the Rotman School of Management will have to pay around $75,000 USD.
Kellstadt Graduate School of Business – DePaul University
At the DePaul University Kellstadt Graduate School of Business, students can obtain a full-time MBA with the availability of 100 courses in 20 MBA concentrations and 17 specialized Master degrees. In 2016, within six months 89 percent of surveyed graduates were employed, 14 percent being entrepreneurial, contract or freelance. Average starting salaries were about $82,200.
Liautaud Graduate School of Business – University of Illinois at Chicago
The Liautaud Graduate School of Business at the University of Illinois at Chicago full-time MBA is a 13.5 course program, with six courses designed to deepened functional business knowledge, while the remaining 7.5 are geared towards allowing students to customize their experience towards their personal career interests. They provide twelve concentrations in their MBA program.
Mendoza College of Business – Notre Dame
The Mendoza College of Business at Notre Dame University offers two traditional full-time MBA options, which can be taken in two years, or just one in a more accelerated format. According to employment statistics recently released by the business school, about 88 percent of Two-Year full-time students were given a job offer within three months of graduating, with about 86 percent of those graduates accepting the offers. Like many of the major business schools located in the Chicago metro (although, yes, Notre Dame is technically in Indiana), full-time MBA grads enjoyed a lush base salary upon employment, with an average salary of $105,000 for the Class of 2017. Median signing bonuses also ranked in the higher end of the schools on this list, coming in at around $20,000.
The Mendoza College of Business is one of the many business schools in the U.S. that has seen a dramatic shift in terms of graduates moving into the tech industry. Three industries in particular dominated when it came to employing Mendoza MBA grads: tech, financial services, and consulting. However, a slim majority (24.7 percent) joined the tech industry, enjoying salaries slightly higher than the Mendoza average, coming in at $110,000.
Quinlan School of Business – Loyola University
The Quinlan School of Business offers full-time MBA offering is one of the most affordable high-quality Chicago options out there, with the most recent full-cost of the program coming in at $73,422; comparable to many of the aforementioned Toronto programs. And unlike many of the programs on this list, Quinlan isn't located in some quaint suburb. Rather, the school is centered right on the historic Magnificent Mile in Chicago, fully integrated into the vibrant city.
About the Author