How To Break Into the Tech Industry: Intuit Inc.

Since 1983, Intuit Inc.—the Mountain View, CA software company that spearheaded the creation of products like TurboTax, Quickbooks, and Mint—has effectively changed the way the average person manages their money. And with more and more MBAs shedding their finance industry aspirations for a role in tech, a job with one of the most well-regarded tech organizations is looking especially ideal.
Why Should I Join Intuit Inc.?
Intuit Inc. was ranked 13th overall on Fortune's 2017 list of the "100 Best Companies to Work For," and 30th overall on Glassdoor's newest "Best Places to Work" list. The company takes a holistic approach to ensuring company well-being. Intuit has 24-hour onsite gyms, and even provides a certain amount of bicycles for employees who bike to work. Fortune listed job perks like telecommuting, compressed work weeks, college tuition reimbursement, daily free time to pursue other projects, and paid time off for volunteering.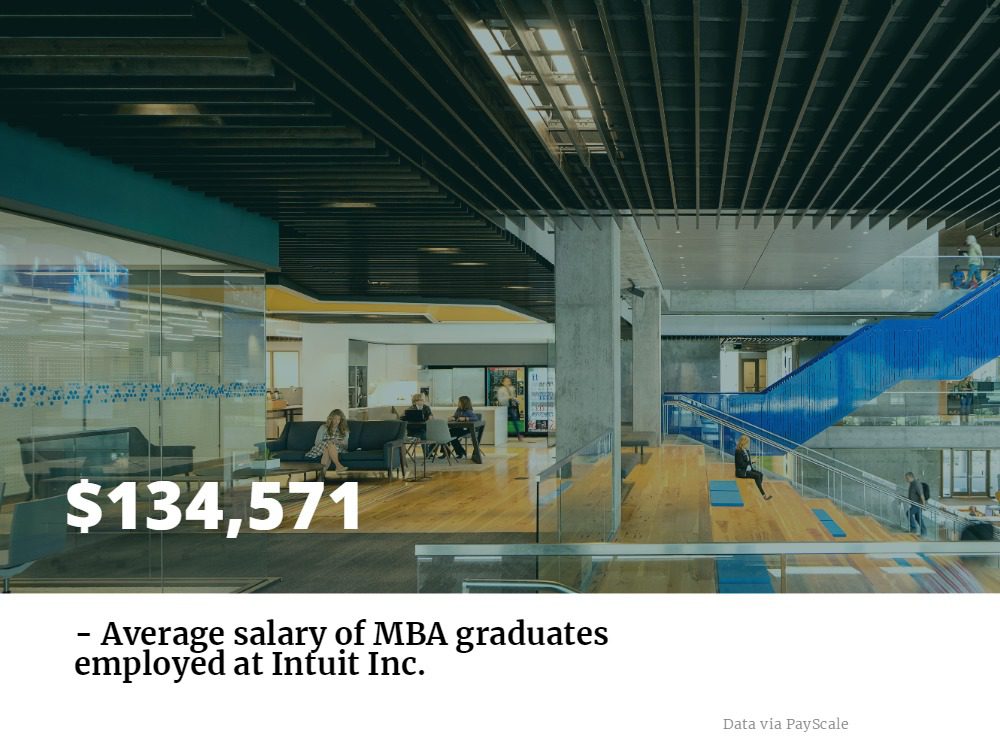 Many of the positions at Intuit are, unsurprisingly, tech-based, so an MBA may not be as advantageous in getting an engineering position. However, according to PayScale data, MBAs are typically the highest earners at Intuit, with the average MBA earning nearly $125,000 per year.
What Internships are Available?
Intuit Inc. has a specific internship for MBAs: the MBA Intern Marketing Manager position. This internship is offered in Intuit's California locations in Mountain View and San Diego, as well as in Plano, Texas. In this position, MBAs help the company gain insight into the needs of customers and the effectiveness of current marketing strategies, through research and testing. According to the company website, these interns also have the opportunity to partner with teams working in, "Product Management, Development, Finance and Care." This is a paid summer internship, so students can cover the cost of living while observing and contributing to innovations at a leading software company.
Intuit is currently offering a variety of other internship positions that might be appropriate for MBAs, such as a Marketing Intern position in London. MBAs specializing in Supply Chain Management can apply to be Supply Chain Specialist Interns, and work closely with Intuit's Supply Chain Finance team.
At the company, it is not uncommon for intern's to parlay their positions into full-time jobs after graduation. The company's website says that its internship program, "is truly an 'early identification' program, focusing on identifying and investing in high potential university students really to encourage them in their early careers and potentially to bring their talent back to Intuit after graduation."
How to Get Hired at Intuit
In recent years, Intuit has moved from a traditional interview process, to an innovative method of vetting candidates that incorporates virtual reality. Their hiring program, Assessing for Awesome (A4A), requires that candidates: "Speak for five minutes about themselves; speak for 15 minutes about two or three projects of which they're proud; prepare a 15-minute presentation on a case study or coding exercise; participate in a 25-minute question and answer period." The interview is conducted by an advanced staff member who works closely with the position in question. The company uses virtual reality to allow candidates to demonstrate their skill sets.
Intuit Inc. hires graduates and interns from a number of the top-rated business programs in the country, including the Northwestern University Kellogg School of Management in Chicago, Illinois, which brought in full-time employees and interns from the most recent graduating class. Some of the most highly-regarded MBA programs offer various tech industry advantages, including the recently introduced Tech MBA at NYU Stern, and the promising new Cornell Johnson Tech MBA, offered at the school's new New York City campus.
For more information on which school's provide the best opportunities to join the tech industry, head on over to our sister site Clear Admit, which recently took a look at programs from other established institutions like the UCLA Anderson School of Management and MIT Sloan.
About the Author