What MBAs Should Know About BMO Financial

BMO Financial Group, established in 1817 as Bank of Montreal, is one of the largest diversified financial service providers in North America. According to BMO, more than 45,000 employees serve the financial needs of more than 12 million customers.
One of Canada's Big Five banks, BMO Financial Group is the fourth-largest bank in Canada by market capitalization and assets, as well as one of the ten largest banks in North America. Perhaps most impressively, the company has not missed a dividend payment since 1829. That means BMO paid dividends through major world crises such as World War I, the Great Depression, World War II, and the 2008 financial crisis.
BMO Financial is a large company with several divisions, each handling a different aspect of the organization. These divisions include:
Personal Banking
Business Banking
Wealth Management
Capital Markets
How can you become employee 45,001? You aren't' the only MBA wondering that very thing. Two Internships and a Co-Op program are available at BMO:
BMO Student Internship Program
BMO's Student Internship Program gives students an opportunity to see how their studies apply to banking. According to the company, candidates who are out-of-the-box thinkers, exceptional personalities and proficient in multiple disciplines are preferred. Participants can expect real world experience as well as various seminars, workshops and mentorship programs.
Internships are offered in various areas of BMO Financial, called "streams" The company offers internships for the following streams:
Customer Sales & Service
Financial Modelling Analyst
Analyst
Coordinator
IT & Programming
Project Management/Research
Key dates to consider for Student Internship Programs:
Accepting applications: November – January
Interviews: On-going
Program begins: June
Read more about each BMO Internship stream here.
Capital Markets Internship
Meanwhile, the Capital Markets Internship are summer internships for students interested in a potential career pipeline into BMO Capital Markets, the financial services division of the company which specializes in equity and debt underwriting, corporate lending and project financing, merger and acquisitions advisory services, securitization, treasury management, market risk management, debt and equity research and institutional sales and trading.
Various Capital Markets Internship are offered, including:
Investment & Corporate Banking Analyst
Investment & Corporate Banking Associate
Sales & Trading Analyst
Sales & Trading Associate
Key dates to consider for Capital Markets Internships:
Submit application: September – January
Interviews for Summer Associate: October – January
Interviews for Summer Analyst: September – November
Program begins: June
Read more about the Capital Markets Internship here.
Co-Ops
Lastly, many of BMO's business groups offer co-op opportunities. Work terms typically last four months. Students are recruited three times per year: summer, fall, and winter. Co-op opportunities are open to students enrolled in an accredited co-operative education program. BMO works with a number of universities to identify and hire co-op students. As with the internships, students should check with their school's career center to see when BMO is recruiting.
What's It Like Working At BMO Financial Group?
According to Ivey Exec, 87 percent of BMO employees would recommend working for the company to a friend, and 79 percent feel the company has strong leadership. On average, employees at BMO earn $89,000 per year, with average bonuses amounting to around 40 percent of their base salary. The Ivey Business School outlined some of the stats and figures here.
However, according to Payscale data, MBAs at BMO earn much more than the average employee. According to U.S.-only data, MBA grads at BMO pull in annual salaries as high as $136,262.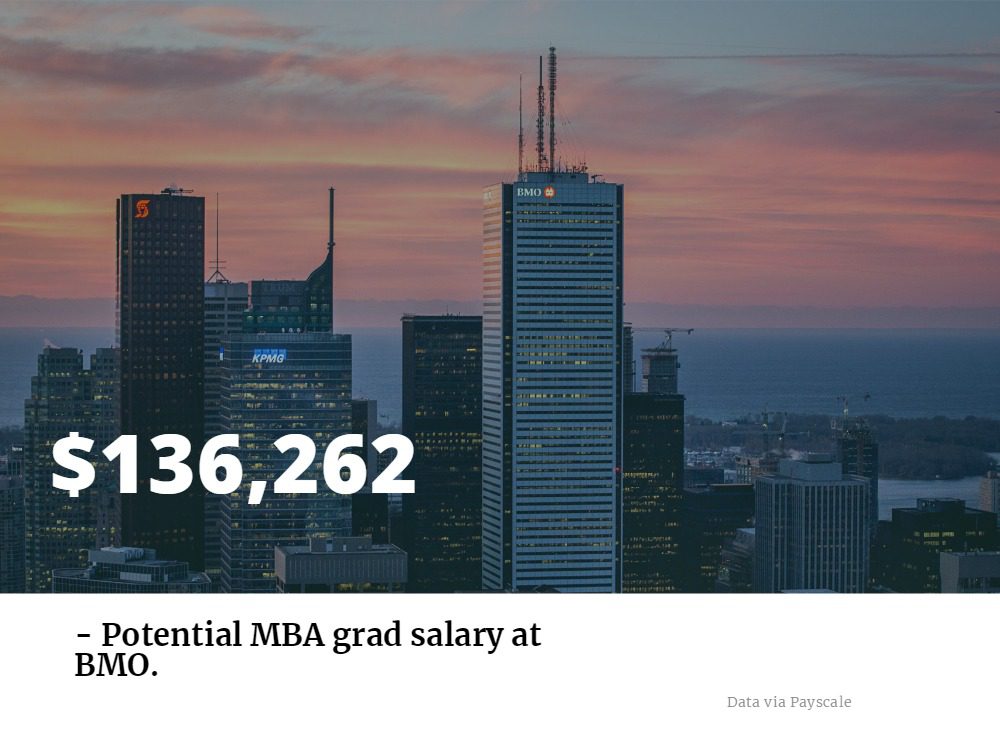 What Jobs Are Out There for New Graduates?
The following opportunities are typically offered to graduates based on their area of study. Full-time opportunities are typically offered to graduates who have been identified to have a passion for capital markets and a track record of success. BMO posts opportunities and holds information sessions at selection schools, so refer to your school's career center to apply.
BMO also works with a number of universities to identify and hire new graduates. Students are encouraged to check with your school to see if and when BMO will be recruiting there. All graduates can apply open positions on BMO's career website.
New graduate opportunities include jobs such as:
Investment & Corporate Banking Analyst
Investment Banking Associate
Trading Products Rotational Program
Product Operations Development Program
Anti-Money Laundering – Specialist, AML Data Analytics
Enterprise Risk and Portfolio Management
You can read more about each opportunity here.
About the Author