Top MBA Recruiters: AT&T

Finding employment after graduating from an MBA program can be a challenge for some. Thankfully, new MBAs are never alone in the process. From companies that actively recruit talent from business schools throughout the country, to MBA programs themselves helping to facilitate interviews and job referrals for their students, students should be sure to take advantage of resources available to them.
A look at 2017 employment data from a top MBA program like the University of Chicago's Booth School of Business reveals the overwhelming trend: a whopping 89.2 percent of students found employment through university-facilitated avenues, be it on-campus recruitment and interviews, networking events, or through a Booth-facilitated summer employer. The success of campus recruitment benefits everyone, not only because universities are willing to open their doors and advocate for their students, but because top companies go out of their way to recruit young talent and create opportunities for them.
One such company is American multinational telecommunications holding company, AT&T. Founded in 1983 as the Southwestern Bell Telephone Company—part of the Bell Telephone Company with roots in the late 19th century—today AT&T has more than 254,000 employees worldwide and $190 billion in revenue. With a commitment to MBA graduates through internships and early career development programs, AT&T makes the grade as a top recruiter and employment destination for MBAs.
What Is An AT&T Career Like for MBAs?
It should be no surprise that MBAs love working at AT&T when you know the kind of investment this company makes in the educational development of its employees. In 2016, AT&T spent $250 million on employee training and invested roughly 20 million hours into the process. With so many opportunities for ambitious team members to accelerate their careers through leadership and development programs, this is the perfect company for those looking to quickly rise into leadership roles.
AT&T has been awarded many times for its workplace culture, including being named on Fortune's '100 Best Companies to Work for in 2018' and 3rd overall on the Diversity Inc. list of the 'Top 50 Companies for Diversity' in 2018.
Of course, it pays to have an AT&T career, even beyond a positive workplace culture. According to PayScale data, MBA graduates at AT&T earn an average annual salary over $95,000. This can range as high as $142,000 for those in operations management. Employees, including interns, are rewarded with competitive compensation and benefits, including paid holidays, time off, and discounts for AT&T products.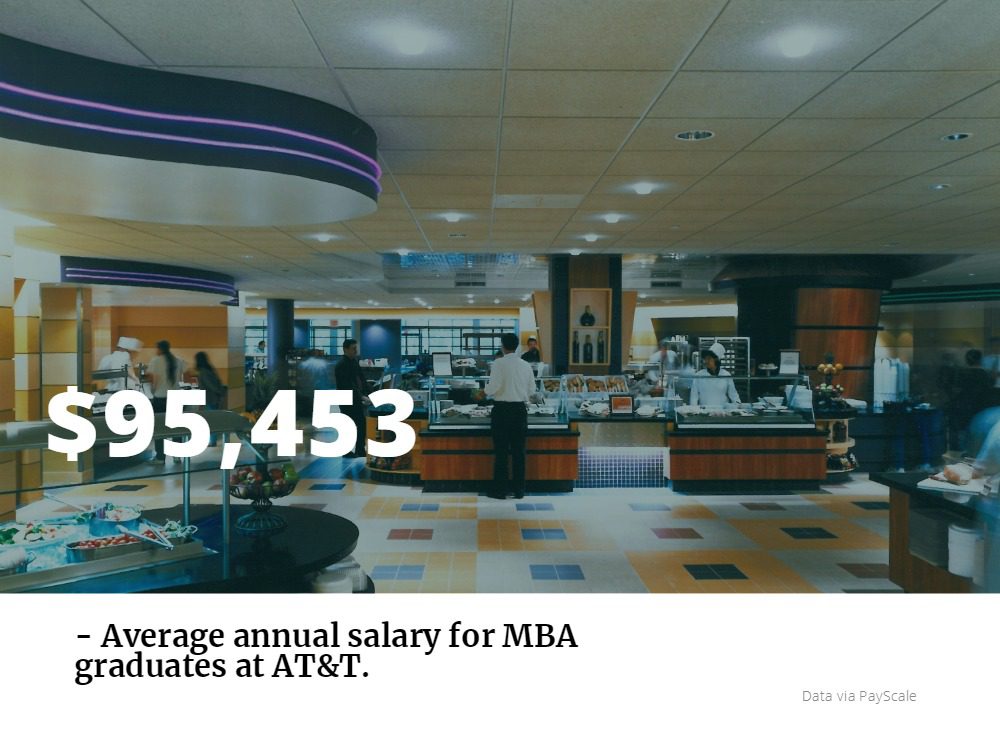 Getting Started
MBA students interested in starting an AT&T career should keep an eye out for the various recruitment events set up through their university, where they can apply on campus and may be selected to interview with college recruiting managers. Because of the company's heavy investment in a diverse workforce, AT&T also has a strong presence at recruitment conferences like the Forté Foundation for female business leaders, Reaching Out MBA for LGBT candidates, and the National Black MBA Association (NBMBAA).
Many MBAs start their AT&T career through its many internship opportunities, which are found at locations throughout the country and typically last 10-12 weeks. AT&T offers these paid internships a huge variety of fields, such as data analytics, cybersecurity, entertainment group technology, software development, and leadership, among others.
In addition to internships, MBA graduates may apply for one of the many AT&T career development programs. These are full-time, paid rotational programs that may last anywhere from two to three years, providing hands-on experience, exposure and opportunity. Development programs at AT&T include:
B2B Sales
Cybersecurity Development
Engineering and Operations Development
Finance Leadership Development
Leadership Development
Software Development
What Does AT&T Look for in MBA Candidates?
When hiring for its MBA internships and development programs, AT&T looks for students with at least three years of professional experience with the ability to collaborate on complex issues and thrive in a leadership role. The company seeks candidates who are passionate about the role technology can play in people's lives and its capacity to transform.
In addition to the internships and early career programs, AT&T also looks for more experienced MBA holders for higher-level executive and management positions. For these roles, the company seeks candidates with at least five to eight years in experience related to the role with the ability to work in a team, be a self-starter, and think critically.
About the Author