Wharton's Adam Grant on Selflessness, Creativity, and Resilience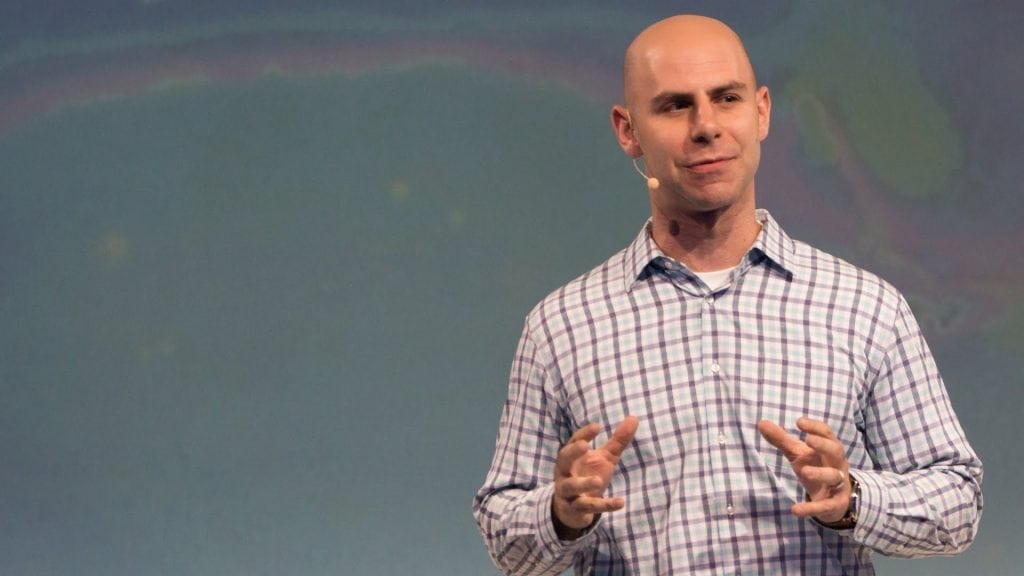 Adam Grant is no stranger to revolutionary ideas. In fact, some consider he is somewhat of a revolutionary. As Wharton's youngest ever tenured academic professor (he received his at the ripe old age of 28), Grant has evolved to become one of the country's leading thinkers in management and organizational psychology.
He is also, as his New York Times byline states, "a former advertising director, magician and junior Olympic springboard diver."
After receiving a B.A. from Harvard and a Master's and Ph. D. from University of Michigan's Ross School of Business, he accepted an invitation from UNC Chapel Hill as an Assistant Professor. Grant's academic papers received wide attention, propelling him to an associate professorship in 2009 and his later tenured professorship at Wharton.
The Work of Adam Grant
Grant's early research formed the basis for his first book, Give and Take: A Revolutionary Approach to Success, which climbed the bestseller lists of both the New York Times and the Wall Street Journal. An exploration of what drives the human impulse toward achievement is the driving force behind the book. Grant examines the phenomenon of 'givers and takers', the former of whom see success as contributing to others without the assumption of something in return, and the latter, who see others as mere stepping stones to their goals.
The third type Grant observes are "matchers," who attempt to level the field by balancing give and take. "In the workplace," he writes, "give and take becomes… complicated. Professionally, few of us act like purely givers or takers, adopting a third style instead. We become matchers."
Give and Take made several best-of lists in 2013 including Amazon, Apple, the Financial Times, The Wall Street Journal, along with Oprah's must-read list. The Harvard Business Review also lauded Grant as one of the leading thinkers in organizational psychology.
Grant's style of combining breakthrough research with engaging stories keeps them high on bestseller lists. The success of Give and Take was followed by that of Originals: How Non-Conformists Move the World. Published in 2016, Originals looks at how people champion new concepts both in the business world and in creative fields, and the methods by which change occurs in the face of groupthink. Celebrated author Malcolm Gladwell noted of the book, "[Reading it] made me feel like I was seated across from Adam Grant at a dinner party, as one of my favorite thinkers thrilled me with his insights and his wonderfully new take on the world."
Grant's research delves into the worlds of sports, business, politics, and entertainment, and his style is easily digestible for readers across disciplines. He took his ideas from the first two books to the stage in a 2016 TED Talk, "The Surprising Habits of Original Thinkers". In it, Grant discusses his experiences with procrastinators and so-called 'pre-crastinators', who work so far ahead of deadlines that their capacity for creative thinking diminishes.
"Procrastinating," Grant says, "is a vice when it comes to productivity, but it can be a virtue for creativity."
In collaboration with Sheryl Sandberg, who provided the foreword to Originals, Grant then wrote Option B: Facing Adversity, Building Resilience and Finding Joy. The Lean In author had recently experienced the sudden death of her husband, and was faced with what seemed to be an insurmountable setback to her rising academic and professional success. Grant, a close friend of Sandberg, helped her to take the concrete steps to move through this difficult experience, spawning the idea for Option B.
"This book," wrote Sandberg, "[was] my and Adam's attempt to share what we learned about resilience".
Grant's opinion column in the New York Times further explores his theories and experiences in creativity, innovation, and resilience. Recent pieces examine doing vs. teaching, the role of conflict in creativity, and the shifting role of individuality in workplace culture.
His podcast, Worklife with Adam Grant, premiered in February 2018. Recent episodes featured a debate with Malcolm Gladwell, coverage of the #metoo movement, and insights on work life balance.
You can follow Grant on
Twitter
,
Facebook
, and
LinkedIn
.
About the Author