New MBA Jobs at Four Tech Companies Making Big Announcements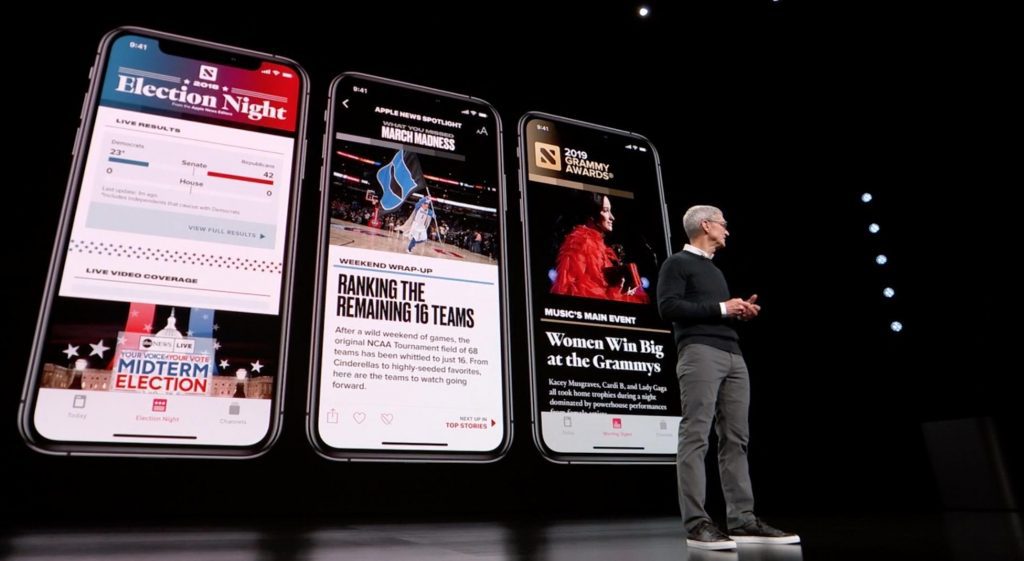 Some of the world's largest tech companies made waves recently with exciting, and in some cases game-changing, announcements at and around the 2019 Game Developers Conference. These new ideas, products, and services were developed by teams comprised of developers, marketers, and MBAs brought on to bring innovation to the table.
Do you want to help develop the next big thing? Tech companies like Apple, Google and Microsoft post new MBA jobs regularly. Check out some of the hottest MBA jobs below, and check our new MBA jobs posts for weekly listings of new opportunities.
Next Generation Content Business Strategy – Apple
This week, Apple announced it was launching four new services: Apple News+, Apple Card, Apple Arcade and Apple TV+. A departure from their usual hardware and software announcements, Apple is turning to services as a new way to foster growth and recurring revenue from its large user and customer base.
Apple also has an open Next Generation Content Business Strategy position at the company's Santa Clara office. The new hire will develop detailed business models and new ideas pertaining to Apple's media businesses. An MBA is required, as well as a minimum of two years of investment banking, consulting, corporate strategy or industry analyst experience.
Major of responsibilities the Next Generation Content Business Strategy include:
Providing strategic analysis of key players & partners
Conducting deep dives to help executives understand trends and flow of value
Building business models and scenarios for new business approaches
Providing long-range forecasts on business opportunities
See more jobs like this at Apple's careers page.
Product Manager – Google
Last week, Google entered the AAA Video Game arena by announcing Stadia: A video game streaming platform capable of delivering high fidelity gaming experiences to anyone with an internet connection and a Chrome browser.
---
---
Google has an open Product Manager position at the company's Mountain View offices, focusing on Stadia's Growth. As part of Stadia's Product Management unit, the new hire will work with engineers to connect the technical and with Sales, Marketing and Finance. Product Managers are tasked with identifying setbacks and coordinating solutions that resolve them. A background in computer science and minimum four years of experience in product management or product design for software products and technologies is required, and an MBA is preferred.
Other responsibilities of the Product Manager include:
Defining metrics that measure the health of core business
Experimenting with different growth strategies to improve acquisition, engagement, retention and growth.
Working with Marketing and User Acquisition teams to identify areas of user growth
Optimizing user acquisition funnel
Working with data scientists to create models for churn and lifetime value
Visit the Google careers page to see more job openings.
Data Analyst – Microsoft
Microsoft is expected to reveal its own video game streaming platform, Project xCloud, this summer. This would directly compete with Google's platform, but Microsoft's history with Xbox and its Game Pass subscription service could give it the head start it needs to succeed in the next gaming generation.
Microsoft has an open Data Analyst position open at the company's Redmond offices. The new hire will join the Data & Insights team in Game Pass to help deliver insights and reporting that will drive key business decisions. Analysts will closely work with engineers, program managers, design, marketing, and data scientists to help deliver subscription gaming to a growing user base. Three years of hands-on analytics experience is required, and an MBA degree is preferred.
Activities of the Data Analyst include:
Manipulating and analyzing data from varying sources
Defining, tracking and reporting key metrics to assess business health
Delivering in depth analysis on business performance and drivers
Designing dashboards to enable ongoing monitoring of business health
Working with data engineers to operationalize dashboards and ingest new data sources
Visit the Microsoft careers page to see more job opportunities.
Partnership Manager – Facebook
Facebook unveiled Oculus Rift S at GDC — their newest VR headset that replaces the original Rift headset with an upgrade to a higher resolution display, improved optics, and a feature called Passthrough+, which gives users the ability to take a look at their real word surroundings without taking off the headset.
Facebook has an open Partnership Manager position for Facebook Reality Labs (formerly Oculus Research) at the company's Menlo Park offices. The new hire will work with the Head of Partnerships and leading researchers to figure out who to partner with and how to define the future of virtual and augmented reality. A background in computer science and at least five years experience working on technologies and bringing them to market is required. An MBA degree is preferred.
Job responsibilities of the Partnership Manager include:
Building and executing on partnerships for research initiatives
Closing IP and joint-development deals with startups, research centers, public companies, etc.
Sourcing new hardware and software technologies and companies
Contributing to Market Research and Business Intelligence efforts
Facebook posts this job, and many others, on its careers page.
About the Author