Top Deferred Enrollment MBA Programs Geared Toward Younger Candidates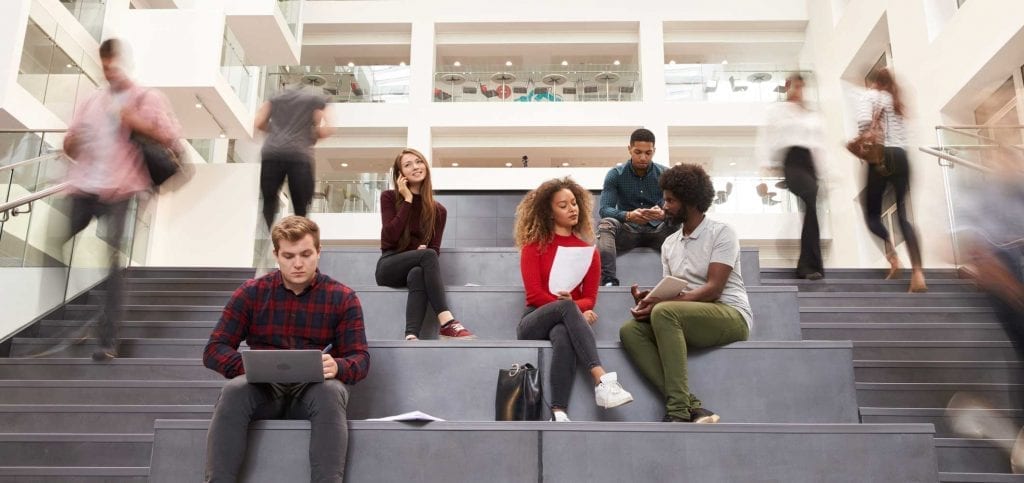 Most of the time, full-time MBA programs require work experience and, overall, class averages of professional experience are close to five years. Rarely are programs open to younger candidates who are still pursuing their undergraduate degrees. However, that all changes when it comes to deferred enrollment programs.
These programs guarantee senior undergraduate students a spot at some of the top MBA programs in the world, two to five years after they graduate. This means that you graduate with a plan for the future and the time to figure out the details.
Recently, MIT Sloan announced a new deferred enrollment program, joining the ranks of other top b-schools including Chicago Booth, Columbia Business School, Harvard Business School, Stanford GSB, UVA Darden,  The Wharton School, and Yale School of Management. Each of these programs is set up similarly and vies for top talent at undergraduate schools around the world.
How Deferred Enrollment Programs Work
"This type of program is for those who know that an MBA program is something they want to pursue, in the future. Not directly after their undergraduate degree (in most cases), but a couple of years later," explains Alex Brown, an MBA admissions expert at Clear Admit.
Ambitious undergraduate students apply to b-school during their senior year and then receive a promise of a seat in a future cohort. Typically, students gain two to five years of work experience between acceptance and starting the MBA. Then, after their deferral, they join the same MBA cohort as the traditional full-time MBA.
"By applying and gaining admission, it helps reduce the uncertainty of their plan, going forward. So rather than entering an analyst program at a consulting firm, for example, with the hope of gaining admissions to a top MBA program after a few years, they can enter the analyst program knowing they have an MBA option already," Brown says. "Of course, it doesn't stop them from changing their mind, or pursuing other MBA options, and forgoing the early admission."
These deferred enrollment programs are ideal for future leaders. Typically candidates have outstanding internships, strong academic credentials, and high test scores when they apply. "Also, these candidates are still typically early in their career arch when they do attend their MBA program. But, it makes sense if they are focused and really understand how the MBA program will help develop their career further," explains Brown. "It's good for candidates with focused career goals."
Additionally, it's important to note that deferred admissions MBA programs are designed to attract different types of students. They want candidates who might not typically have business school on their radar, but come from a STEM or humanities background. The key for applicants is to have a solid plan for the future and knowledge of how the MBA fits into that plan.
So, what are some of the top deferred enrollment programs and how are they unique?
Deferred Enrollment at a Glance
At a glance, most of the top b-schools offer very similar MBA programs geared toward younger candidates. All but Yale SOM are two years in length and place students in the same cohort as the full-time MBA. On the other hand, the Yale Silver Scholars program is three years in length with the first and third year being the same as the standard MBA and the second year in an extended internship. The reason behind this difference is that the program accepts candidates directly after their undergraduate career without any work experience.
The rest of the programs encourage students to take two to five years off to gain work experience before they start their MBA. However, in some cases, work experience is not necessary if acceptance is during their final year (fifth year) of graduate school, such as is the case for Stanford's deferral program.
"Generally, the students co-exist in the same program," explains Brown. "Younger students might have more energy and enthusiasm, older candidates might have more experience and insights. It can become a great blend for an academic experience."
Other stand-out differences include the fact that the Wharton Moelis program is only for University of Pennsylvania students. Sloan allows MIT students with an undergraduate GPA of 4.25 to avoid the GMAT, and Darden and Wharton both include scholarships for their deferred programs.
Finally, you can expect to apply to each of these programs in April, around the Round Three MBA application deadline, though Darden uniquely offers three application deadlines.
Inside the Top B-Schools with MBAs Geared Toward Younger Candidates
The differences between the programs lie in the characteristics and incentives offered by each. Here's a deeper look at some of the top offers, who can apply, and how it works.
• Chicago Booth Scholars Program
The Chicago Booth Scholars program is for candidates with three or fewer years of full-time post-undergraduate work experience. It's open to undergraduates from any institution in their senior year, granting applicants a two to four-year deferment before starting the MBA program. While working full time, students have the opportunity to engage with Booth, explore the community, travel, and whatever else is of interest. Applications are due in April and are similar to the full-time MBA application.
• Columbia Business School Deferred Enrollment Program
The Columbia Business School Deferred Enrollment program is open to undergraduate and graduate students who apply during their final year of schooling. Once accepted, you can take two to five years to enter the workforce and start the full-time MBA program when it's right for you. Applications are similar to the full-time MBA program with slightly different short answer questions and are due in April. Once you decide to matriculate, you join the full-time MBA program.
• Harvard Business School 2+2 Program
Harvard's 2+2 program is the best-known deferred MBA of its kind. Candidates apply in their final year of undergraduate or graduate school, then spend a minimum of two years (maximum of four) working full-time before they begin their full-time, two-year MBA program. This program is specifically for students working in the public, private, or nonprofit sector with an emphasis on STEM and humanities disciplines. The application is essentially the same online application for the MBA program; the application fee is simply lower. The admissions deadline is in April.  Candidates enter the full-time MBA program once they have met work experience requirements.
• MIT Sloan MBA Early Admission
The MIT Sloan MBA Early Admission program is open to any exceptional undergraduate student. However, MIT students can avoid the GMAT with a GPA above 4.25. You can apply your senior year or directly after graduation in either your undergraduate or graduate academic career. Applications are due in April, and between acceptance and starting the program, candidates may seek two to five years of full-time work experience. Once matriculating, students enter the same MBA full-time program.
• Stanford GSB Deferred Enrollment
The Stanford GSB Deferred Enrollment program is open to undergraduate students who want to begin their MBA  immediately after their senior year. However, students can defer for one to three years to gain work experience. You can apply during any of GSB's three application rounds and can choose which year's MBA program you'd like to enter. If you decide to defer for one to two years, you can apply for specific fellowships the year before starting your full-time MBA.
• UVA Darden FYSP
The UVA Darden FYSP program is open to undergraduate students in their final year and fifth-year master's students. Candidates can apply in March, May, and August, and once admitted begin their professional journey. They ear two to four years of work experience and gain access to the Darden alumni community for mentorship, networking, and individualized career support. Then, once ready, candidates join the regular full-time MBA program with a guaranteed scholarship in hand.
• Wharton Moelis Advance Access Program
The Wharton Moelis program is a feeder program only for University of Pennsylvania undergrads. Students accepted into the program receive special professional development, career services, and access to the Wharton community such as annual retreats, mentoring, and a potential $10,000 a year fellowship. You apply senior year during Round 3 MBA admissions, and with evaluation similar to the overall MBA pool. You defer for two to four years of work experience and then join the regular two-year, full-time MBA program when you're ready.
• Yale SOM Silver Scholars
The Yale Silver Scholars program was initially created just for Yale undergrads, but now recruits from an international talent pool. The difference with this program is that students start their MBA immediately after college graduation. You spend one year taking core curriculum before your full-time extended internship in year two. Then, your third year, you return to Yale SOM to complete your degree. Students integrate into the Yale SOM MBA, but have special programming and career development tailored to them. Candidates apply their senior year and fill out the same full-time MBA application.
---
This article has been edited and republished with permissions from its original source, Clear Admit.
About the Author