New MBA Job Openings: Strategic Consulting Positions

Newly minted MBAs can choose to take their careers in a variety of different directions after they graduate. A number of them go into the world of consulting, advising clients, and businesses on various issues. This week we will highlight a particular subset of consulting: strategic consulting.
Strategic consultants help businesses and clients prepare plans for future products, optimize their organization, and develop advertising campaigns, to name just a few tasks. If you enjoy planning, researching, and thinking three steps ahead, you should look at this week's jobs.
Strategic Management Consultant — Booz Allen Hamilton
Headquartered outside of Washington DC, Booz Allen Hamilton is a global technology and consulting company. The firm currently has more than 80 offices in the United States, Asia, Europe, and the Middle East and employs more than 26,000 employees.
The firm is hiring a Strategic Management Consultant for its aforementioned DC office. This position will work with civilian services agencies in the federal government to help them solve challenges and build better business processes. This job does not have specific experience requirements, but successful candidates will need to be able to gain a security clearance.
Responsibilities and activities in this job include the following:
Conducting research and data analysis
Building relationships with clients
Looking for areas of improvement
To learn about more jobs like this one, visit Booz Allen Hamilton's careers page.
Manager, Office of Strategic Execution — EY 
Ernst & Young, better known as EY, is well-known as one of the largest business organizations in the world and a major player in consulting. In 2018, EY generated $34.8 billion dollars in revenue from its varied portfolio of services.
EY is currently organizing the Office of Strategic Execution, a new internal initiative to better connect its offices both throughout the Americas and internationally. The company is currently looking for a Manager for its New York Office. The job requires three-to-five years of related experience post-undergrad or one-to-two years of related experience post-MBA and is MBA preferred.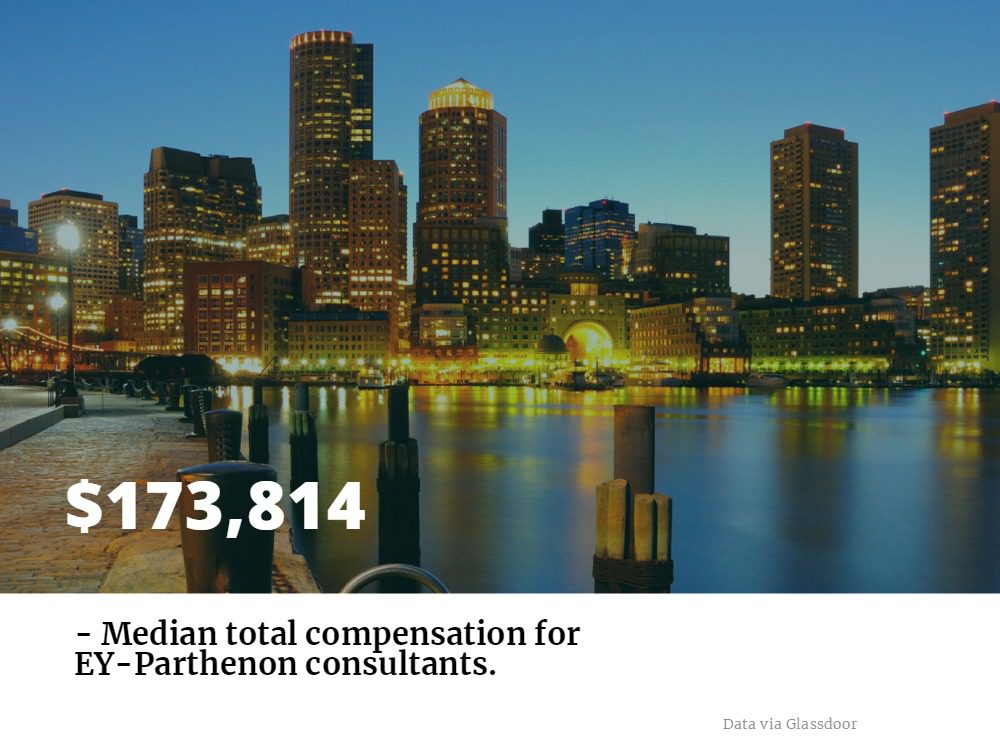 Responsibilities in this job include the following:
Working with OSE team members both in the Americas and globally to define and build organizational and analytical processes.
Managing and supporting senior associates within the Americas OSE
Coordinating with global counterparts to share information and align methods
Interfacing with various leaders to ensure adoption of OSE analyses and methods
Visit EY's jobs page to learn about other opportunities similar to this one.
Corporate Strategy Associate Manager — Accenture
Accenture is a major provider of professional services. With almost 470,000 employees spread across 120 countries, Accenture helps companies both large and small.
Accenture is hiring for a Corporate Strategy Associate Manager at its offices in New York, Austin, Chicago, and San Francisco. The person hired in this position will help Accenture's senior leadership develop plans to push the company forward. The job requires a minimum of three years of relevant experience and is MBA preferred.
Responsibilities in the position include the following:
Collaborating with team members and senior leadership to develop and execute strategy projects
Researching and applying critical thinking to industry trends, competitor dynamics, and current events to provide business insights
Performing quantitative analysis
Visit Accenture to learn more about this job and others.
Pre-Sales Strategy Consultant — Optimizely
Optimizely is a software company that provides customer experience optimization software to a variety of business clients. Based in San Francisco, the company is currently expanding domestically and internationally.
The company is hiring a Pre-Sales Strategy Consultant for its New York office. In this position, the new hire will work with clients to help them improve their digital optimization. The job requires a minimum of three years of relevant experience and is MBA preferred.
Responsibilities include the following:
Working with clients to help them make the transition
Working with the Engagement Manager and other team members to develop a custom implementation for a client
Researching and developing innovations for optimization program best practices
Visit the Optimizely careers site to learn about more positions such as this one.
Senior Manager, Paid Media Creative Strategy — American Express
American Express is one of the world's largest credit card providers. In addition to its credit cards, American Express provides various travel services such as traveler's cheques.
The company is looking for a Senior Manager in its Paid Media Creative Strategy  department, based in its New York City office. The new hire in this position will be working to develop marketing campaigns across various digital platforms (e.g., Facebook, DV360). This job required at least five years of relevant experience and is MBA preferred.
Responsibilities for this position include the following:
Leading creative agency relationships
Working with cross-functional teams and agency partners to develop strategies
Driving acquisition results
There are more jobs similar to this one posted on the American Express careers page.
About the Author