Imperial College Business School: Delivering a Meaningful MBA Program During the Pandemic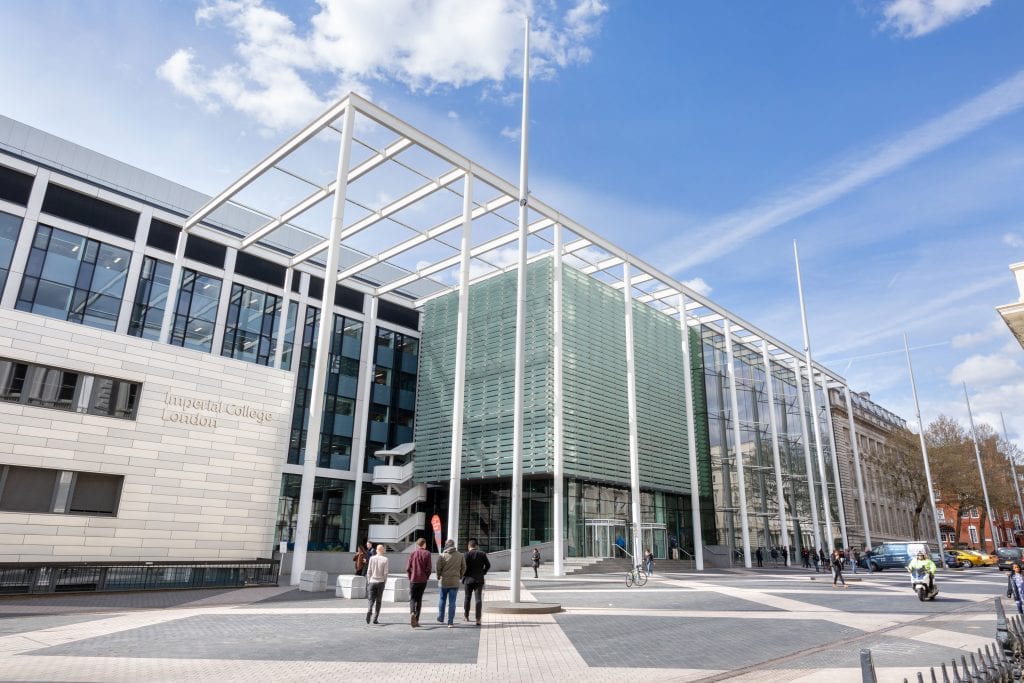 The COVID-19 pandemic was a challenge for which Imperial College Business School was ready. The infrastructure necessary to deliver a meaningful MBA program remotely already existed at the school in The Hub, Imperial's portal for online learning. Implementing their multi-mode delivery system has enabled the school to give students and professors a flexible, effective learning experience, whether in a socially distanced classroom or off-campus.
Imperial College is ranked among the world's top universities by Times Higher Education and QS, which also ranks the Imperial College Business School's Global Online MBA second in the world. The Financial Times ranks the Full-Time MBA program 9th in the world for entrepreneurship, which is unsurprising considering the innovative development of The Hub.
The Hub is a proprietary learning platform designed to deliver content to students in online programs. It was developed by Imperial College Business School's Edtech Lab, a digital learning and education group established in 2005 to research, develop, and deliver education technology and innovate pedagogy to make the most effective use of technology in the classroom. It is being marketed to other institutions worldwide through Insendi, its commercial spin-off launched in 2017.
Of Imperial's 17 programs, 14 are conventional, and three are online. The Full-Time MBA program hosts 56 students this semester. The Global Online MBA Program (GMBA) enrolls about 200 students. Imperial also offers a Weekend MBA program that typically enrolls 100 students and an Executive MBA "boutique" program with a smaller cohort size.
How the Hub Works
Markus Perkmann, the Academic Director of the Imperial MBA and the Imperial Enterprise Lab, noted that this year the school's Global Online MBA enrolled a record number of students. "We have a very successful online MBA which has experienced an extreme upturn in terms of interest and applications. In the market for MBAs, what we have seen is a lot of students switching to the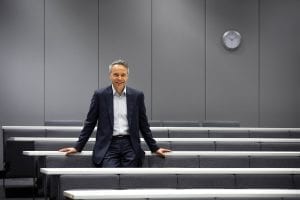 pure online mode and do the Global Online MBA…and then you have a segment of students who don't want to do an online degree," Perkmann said. "They do an MBA because they want to want to be in class. They wouldn't be attracted to doing an online degree, and it's for those people that we are doing the multi-mode teaching."
As the pandemic shut down Britain and much of the world in the spring of 2020, Imperial moved all classes online. As more information about COVID-19 came in and experts tried to determine what course the virus would take, the decision was made between May and June for the business school to implement their multi-mode model for the coming semester. The school wanted a solution that would ensure both remote and physically present students could participate equally in class discussions and interact with professors.
The Hub's primary purpose is as the infrastructure for the online programs, Global Online MBA, MSc Business Analytics (online, part-time) and MSc Strategic Marketing (online, part-time), but it has now been re-deployed to allow the school to adapt its conventional programs to pandemic conditions. The Executive MBA program is a blend of online tools and on-campus learning and so classes convening in August were ideal for early tests of the model's effectiveness. On-campus sessions take place every four weeks on Fridays and Saturdays, and are designed to seamlessly combine campus-based modules with The Hub platform, enabling students in this program to continue working full-time while earning their degree.
The classrooms were augmented with multiple screens, cameras, and microphones. Zoom is imbedded in The Hub platform for students to connect to the lecture. The school created a new position key to the multi-mode delivery system's effectiveness: the co-pilot. The co-pilot is an assistant to the professor in the lecture theater, monitoring the online student activity and collecting questions fielded in the chat, occasionally interrupting the lesson so the lecturer can address student questions and comments.
Because in-class lectures are still taking place on campus, the school had to implement policies to reduce capacity and control traffic flow for the benefit of social distancing. Larger classes are divided into sections that are about a third of the regular class size to rotate classroom time. Students, staff, and faculty must wear masks, and plastic shields separate the lecturer from the students. Lectures have been shortened by a half-hour to make time for cleaning.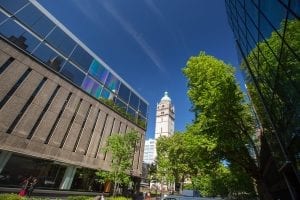 Student and faculty feedback has honed the multi-mode experience. Screens have been moved closer to the lecturer so they can see the students in the class who are present via Zoom. More microphones and more camera angles present a more interactive environment and realistic feel for remote learners. "Its new, it's obviously something that hasn't been done at scale before and so in response to students comments as well as professor's feedback, we are constantly improving the experience," Perkmann said. "One of the things that you need to make sure is that people can see the whiteboard; that's a big one. And we are looking into a solution where the content of what's written on the whiteboard is electronically captured by a device and can be projected onto a separate screen rather than being captured by the camera."
Perkmann pointed to the flexibility that The Hub builds in to the school's programs. With the ability to run live sessions for the online programs, they could potentially be run as multi-modal, giving students more options. It could also change the way that the more than 50 electives offered to MBA students are delivered, making them available to everyone both in-person and remote.
The Student Experience
Ronnie Johnson, Full-Time MBA Class of 2021, was an infantry officer in the US Army before enrolling at Imperial College Business School. As he describes it, "I had many concerns going back to school in a pandemic, especially since it would have been very easy to stay in a secure job like the military. While I was somewhat concerned about the actual program delivery, I knew Imperial had some very smart people working on that issue, so I knew it would be fine."
When Johnson began his studies this fall, many pubs and restaurants were open on a limited basis, and public socializing was permitted in small groups. As a result, he had an opportunity to meet with many of his classmates on an almost routine basis before a second lockdown.
Johnson has found it easy to adapt. "Overall, I haven't had to make any changes to my study techniques or learning strategy. I find the hybrid delivery at Imperial very organized and engaging, and that's what helps me absorb information." He is optimistic about university, even under current circumstances. "I think there is no better place to be right now than university. I saw abundant opportunity in going back to school in these times, opportunity that far outweighed any downside, and I think Imperial is proving that correct."
Olivia Xu was looking to pivot away from the technical roles she had in her career by pursuing an MBA she could use to further her long-term interests in sustainability and retail. The inability to interact with her classmates on a face-to-face basis was a concern for her. "For a lot of students in the program, we would be moving countries to attend Imperial, and it wouldn't have made sense for us to move all this way to take classes from our bedrooms," Xu said. "So far, I'm really happy I decided to attend this year instead of deferring; the school has gone to tremendous effort to make sure students are getting in-person teaching but safely."
Imperial is one of the universities that play a large role in forming COVID policy in Britain. The laboratory facilities of the Imperial College Faculty of Medicine enabled the college to establish a rigorous testing program and track and trace system, and enact proven health and safety protocols quickly.
Like many workers and students, Xu had to adapt to working and learning at home, but was able to do so with relative ease. "In transitioning from working in an office to working from home, I've learned to make space and set boundaries in the home to separate schoolwork from home life," she said. "I didn't feel that the transition was that difficult because all of us in the cohort were in the workforce for at least the past three years, so we're all approaching studying with fresh eyes and months of pandemic life behind us."
Ready for What's Ahead
In the event that lockdown policies prevent university classes from meeting in-person, Imperial is ready with a program delivery system that has been tuned to make distance-learning just as engaging and interactive as being in the classroom.
For students like Olivia Xu and Ronnie Johnson, their program is reinforcing the flexibility and innovation necessary for success in the global marketplace. MBA programs are designed to challenge, but also to build strengths and foster connections. Imperial College Business School has been able to maintain the integrity of their program through conditions that attack the very foundations it builds upon.
About the Author