Comparing The U.S. News Full-Time and Online MBA Rankings

When it comes to business school rankings, U.S. News & World Report issues one of the most comprehensive annual lists. The annual rankings includes separate lists for the "Best Business Schools" and the "Best Online MBA Programs," but deciding which format is right for you can still be tricky.
While you'd think these list would be pretty similar in their contents and methodologies, they are actually quite different. Whether it the location of the programs, or their costs and salary expectations, the differences between the top overall MBA programs and their online counterparts are distinct.
U.S. News Best Business Schools (Full-Time MBA)
To create their annual "Best Business Schools" rankings, U.S. News surveys all 471 MBA programs accredited by the Association to Advance Collegiate Schools of Business International, and received a total of 377 response.
Of those schools, 131 were ranked because they provided enough of the required data on their full-time MBA program that were needed to calculate the full-time MBA rankings, based on a weighted average of the indicators such as peer assessment, recruiter assessment, mean starting salary and bonus, and employment rates for recent graduates.
According to U.S. News, the best business schools in the country are:
You can see the prestige oozing from this list: These are undoubtedly some of the best and most competitive universities—let alone business schools—in the country. Business schools like HBS, Wharton, and MIT Sloan are well-known as top institutions and its MBA programs are no exception.
However, prestige like this costs money—and a lot of it. The least expensive program on this list is Berkeley Haas, which still costs $59,812 per year for non-CA residents. No other program cost less than $60,000 per year just for tuition, with schools like Columbia coming in at $71,544 in just tuition and fees. The entire estimated first-year budget for CBS is $107,749.
Luckily, these high costs comes a (very) high return on investment—the best business schools are also great at placing their graduates into high-paying jobs with great starting salaries. Full-time MBA graduates from the Stanford's Graduate School of Business graduates enjoy the highest base salary in the country, with recent grads earning a stunning average base salary of $144,455. And that's before compounding the average $29,534 signing bonus Stanford MBAs routinely enjoy.
U.S. News Best Online MBA Programs
In order to create its Online MBA rankings, key online data was gathered from participating business schools. Data used in Online rankings includes student engagement, faculty credentials and training, student services and technology, peer repeating and admissions selectivity.
According to U.S. News, the top online MBA programs in the country are:
Whereas the best full-time MBA list features some of the most renowned universities on Earth, the Online MBA rankings features a number of regional and state schools. These are still great schools, but slightly less exclusive than their counterparts on the other list. While, it's tough to compare full-time MBA programs at top business schools to online programs, we'll still give it a go.
The Temple University Fox School of Business online MBA program has been recognized as the best in the country for four consecutive years. The program is built to develop business acumen and organizational leadership. The curriculum is put together by a combination of on-demand video lectures and in-person learning. With multiple entry points for professionals with busy lives and demanding travel schedules, the Online MBA can be completed in as few as 20 months or in as many as six years.
As far as cost goes, all of your top online MBA programs are considerably cheaper that full-time programs at top schools, with the most affordable being the University of Texas — Dallas Professional Online MBA, coming in at just $49,531 for the total cost for Texas resident. The program with the most affordable tuition cost for out of state students is Pennsylvania State University World Campus, which cost out of state MBAs $56,880 in total. With that said, not all online MBAs are as easily affordable. The tuition alone for Carnegie Mellon's part-time hybrid online program costs $71,175.
U.S. News & World Report unfortunately doesn't offer complete salary and employment statistics with their Online MBA rankings. However, the school's that do list this information had encouraging numbers to share. One of the online programs with the highest starting salary for its graduates was the University of North Carolina's, with a median post-graduate base salary of $120,000.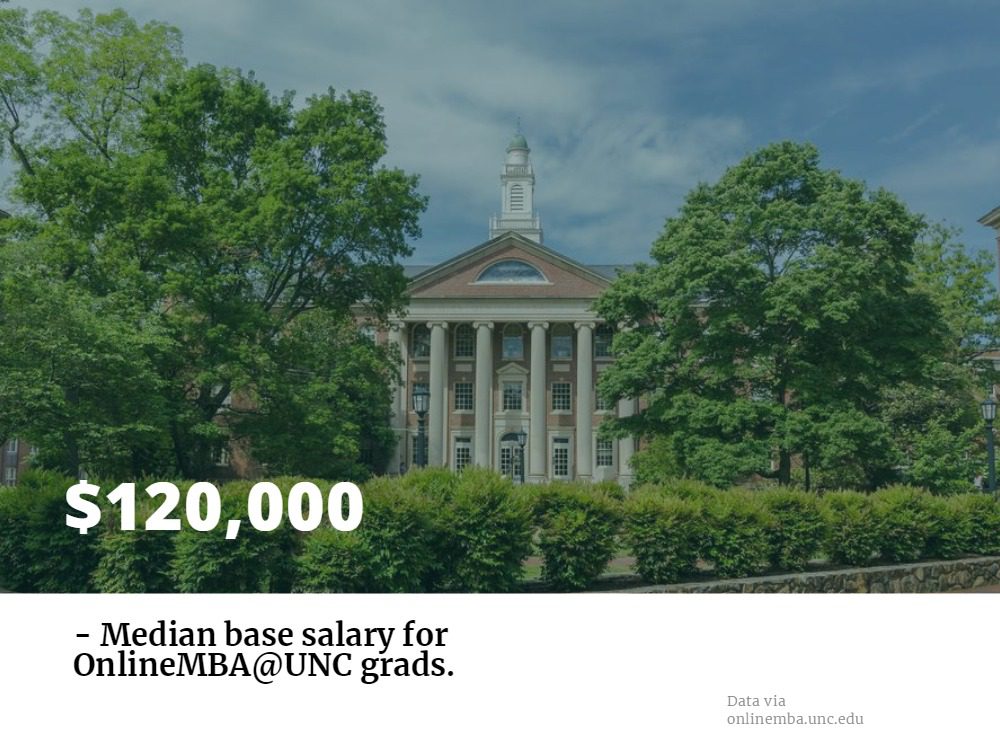 What's Right For You?
Now that you know where the top full-time and online MBA programs in the country are, which type of program is right for you?
The full-time MBA is the classic graduate business school offering. Usually taken over the course of two or more years following undergraduate studies, full-time students benefit from being able to take their time with their coursework and studies. These programs are also popular among applicants who want to change careers or industries, or who are looking for entry-level management positions.
Meanwhile, an online MBA is perfect for those seeking maximum flexibility. This option is best for prospective MBAs who are unable to leave their job and family to pursue a full-time degree. An online MBA format makes use of mail, text, or video conference technology to connect with students and prepare them for navigating the dominant communication methods of today's business world. Keep in mind, however, that internship and recruiting opportunities are far less prominent for the online students.
About the Author