How to Get Your Employer to Pay For Your MBA

Earning an MBA holds tons of value in the business world—an advanced business degree can open doors that may otherwise have been closed, and boasts a high return on investment thanks to the top-level salaries that MBAs command.
Graduate school—and all of the coursework that comes with it—can be an intimidating challenge, but paying for it doesn't have to be. Aside from scholarship, grant and fellowship opportunities at business schools across the country, more and more companies are placing a higher importance on tuition reimbursement programs, and expanding opportunities for paid MBA tuition reimbursement.
How can you get your employer to pay for your MBA studies? Let's take a closer look.
Getting Your Employer to Pay For Your MBA
First thing's first: You need to find out if your current employer offers tuition reimbursement to its employees. The terms of reimbursement vary depending on the company, with some corporations not offering any sort of program at all. Those that do offer some sort of compensation may do so on a course-by-course basis, or as a lump-sum reimbursement package for coursework in relevant degree plans.
"Organizations typically support MBA pursuits for two reasons," J. Todd Rhoad, managing director of Atlanta's BT Consulting, told USA Today. "Employee development and succession planning. In the first case, companies support the cost of MBA programs as part of their commitment to employee training and development."
If you want to convince your employer that your education is worth investing in, you'll need to show that earning an MBA will further your business acumen and understanding of your industry, and ultimately help your company reap those benefits.
"Usually, an employee has to already been delivering great results within the company," Roderick Lewis, international relations director at the ISCTE Business School, University Institute of Lisbon, told Business Insider.
"If you haven't already convinced your company, then asking them to [sponsor your education] becomes really difficult," Lewis says.
USA Today also outlined a few checkboxes to hit when determining how valuable earning an MBA would be for your organization:
Do current members of middle or upper management hold advanced business degrees?
Does your company have the available revenue to invest in employee education?
Would someone with the type of advanced training you seek bring clear advantages to the company?
If those point hold true in your situation, then start researching which programs specialize in providing the skills that your company needs. Keep in mind: You do not have to limit yourself to business schools in your metro thanks to popularity of Online MBA programs. There may have once been a stigma against online programs, but the of the matter fact is that many of the top online MBAs on U.S. News & World Report's annual rankings also rank highly on the publication's top campus-based graduate business programs list.
Some of these schools include:
Once you've found the right program, you'll want to craft a brief proposal for your employer. In it, you'll want to mention how you fit the company's tuition reimbursement policy, and list the advantages that continuing your education can bring you and your company. Don't shy away from providing data on how much assistance you may need and how this investment will pay off for everyone, while also ensuring your employer that you'll remain committed to the company during your degree program, or won't jump ship after earning your degree.
"A proposal should address the benefit to the company," Rhoad says, "(including) areas where the company could improve and how you will help them, a review of the courses to be taken and how they will provide knowledge that can help improve the company's performance."
Companies That Provide MBA Tuition Reimbursement
Investopedia recently compiled a list of companies have stated that they place a high value on their tuition assistance benefits, and provide tuition reimbursement for the educational costs of an MBA.
According to Investopedia, consulting companies lead the market in tuition reimbursement programs for MBA courses. These firms also pay the highest salaries for MBA alumni. Deloitte has the most robust tuition reimbursement plan, providing employees with up to $10,000 per year in MBA reimbursements. The firm requires two years of work with the company and a commitment to work for the company after graduation in order to receive the tuition assistance benefit.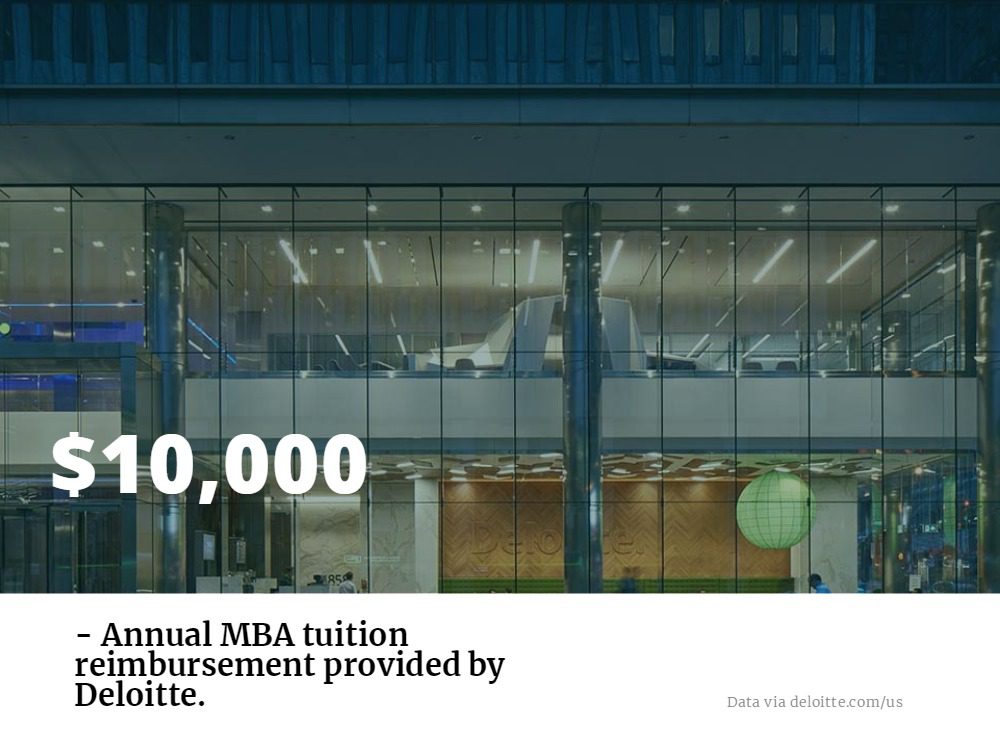 Financial institutions and banks also place a high value on employees with MBAs, and provide tuition assistance. One example is Bank of America, which provides employees with annual tuition assistance of up to $5,250 for advanced degree coursework. Wells Fargo also has a track record of paying for MBAs, doling out up to $5,000 annually for tuition expenses.
The booming tech sector is also hiring MBAs left and right, with some firms developing their MBA talent in house by offering to pay MBA tuition expenses. Apple tops the list of tech companies offering tuition assistance, providing reimbursement of up to $5,000 annually. MBA degrees are even more coveted in the the specialty defense technology sector, as Raytheon, one of the top defense technology companies in the world, offering to pay up to 100 percent of employees' college tuition for graduate school.
Other leading companies offering tuition reimbursement to employees include:
Chevron: A market leader in the energy sector, Chevron offers offers tuition reimbursement of up to 75 percent for its employees.
Ford: Ford's education tuition assistance program provides employees with tuition reimbursement of up to $5,000 annually for an MBA.
Procter & Gamble: This firm has one of the leading tuition reimbursement benefits in the consumer goods industry, providing reimbursement for up to 80 percent of educational costs with a limit at $40,000.
AT&T: This telecom giant provides employees with up to $5,250 annually for tuition assistance, for a maximum reimbursement of up to $25,000 for graduate school courses.
About the Author