Toronto or Montreal: Which City Should I Choose?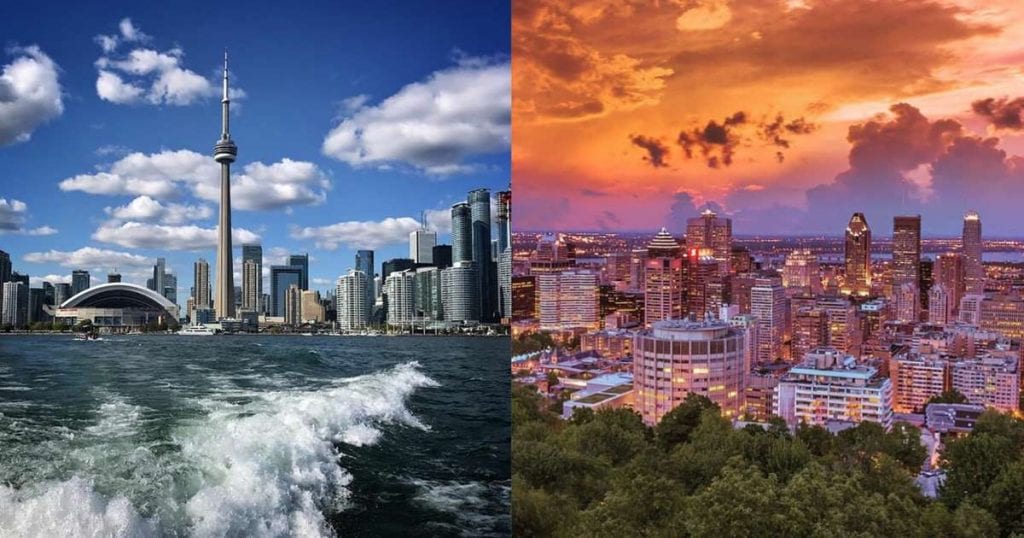 There are a multitude of reasons to consider Canada as a destination for your business degree. To name just a few—there's the low exchange rate from the U.S. to the Canadian dollar; the relative ease of obtaining an educational or professional visa; and the overall openness of the country to international students and employees. Also, many regions in Canada are rife with opportunity for startups and small businesses in addition to already established firms in the finance, tech, engineering, and healthcare sector.
If you've decided all of these factors make you want to consider the Great White North for business school, Toronto and Montreal are likely on your list of destinations. In this piece, we'll compare the two cities on several points, and will also offer a glimpse into their leading MBA programs.
Toronto or Montreal: Job Markets
Opportunities for MBAs are plentiful in both Toronto and Montreal. Aerospace, tech (specifically cybersecurity and AI), financial services/fintech, life sciences/healthcare technologies, and fashion/retail all thrive in both places.
Toronto is known as one of the world's most multicultural urban centers, drawing international presence from each of the aforementioned sectors. It is considered the economic capital of Canada, and has the third highest percentage of immigrants in the world.
Catherine Chandler-Crichlow, Executive Director of Career Management and Corporate Recruiting at Western University's Ivey Business School, says of the international hiring pool, "International experience and background is [truly] an asset to the market."
Toronto's Bay Street is the Wall Street of the city, with its high concentration of brokerage firms and banks. The city also has its own stock exchange, the seventh largest in the world. Three quarter's of this region's financial services workforce reside in Toronto, so it's a logical choice for any MBA. The finance world is just one of many from which to choose. Following is a list of some of the top hiring Toronto companies across all sectors.
Accenture
AIG Insurance of Canada
Cisco
Citi
Ford Motor Company of Canada
KPMG
Maple Leaf Sports & Entertainment Partnership
Oracle
PepsiCo
Royal Bank of Canada
Salesforce
Toronto-Dominion Bank (TD)
Montreal, the second largest city in the country behind Toronto, has an equally robust economy, with a strong service sector and plentiful jobs in finance, research and development, and engineering. Like Toronto, Montreal boasts a large number of tech and fintech firms. Facebook AI Research (FAIR) has a lab here, and Google Brain, Microsoft Research, and DeepMind also call Montreal home. The Montreal Gazette recently published a list of the city's top employers, based upon factors such as physical workplace, work atmosphere; health, financial and family benefits; vacation and time off; and training and skills development.
Bell Canada
Blue Cross Canassurance Group
Bristol-Myers Squibb Canada
Genetec, Inc.
National Bank of Canada
Pfizer, Inc.
Public Sector Pension Investment Board/PSP Investments
Toronto or Montreal: By the Numbers
Montreal and Toronto have many similarities when it comes to the facts and figures. Healthcare, for instance, is subsidized in both places as it is in Canada as a whole. In the arena of transportation, both cities have a bike share program, but the cost of a monthly public transit pass is higher in Toronto ($105) than Montreal's $60 monthly pass. Weather-wise, both cities have roughly the same average temperature of about 9 degrees Celsius (45 degrees Fahrenheit). Montreal's average monthly salary is slightly lower than Toronto's—at about $2,000 a month in Montreal to $2,600 per month in Toronto. Montreal's population is less dense than Toronto's. About 1.7 million live in Montreal; three million reside in Toronto. Here are some other numbers to consider:
Unemployment rate: 8.6 percent in Montreal; 6.3 percent in Toronto.
Future job growth: Figures were available for the provinces of Quebec, which saw a 1.5 percent increase in the number of jobs, and Ontario, which led at 3.3 percent.
Average Rent: A one bedroom apartment in Montreal is more affordable at $720 per month than in Toronto, where it runs an average of $1200 per month.
Toronto or Montreal: Business Schools
The various top business schools in Toronto feed into its growing workforce, and its a wise place to earn your MBA for this reason. DeGroote School of Business at McMaster University, The University of Toronto's Rotman School of Management, Ryerson University's Ted Rogers School of Management, Queen's University's Smith School of Business, York University's Schulich School of Business, and Wilfrid Laurier University's Toronto Campus are all excellent options. The links above contain information on types of degrees offered, application requirements, tuition, class sizes, and more.
Montreal also has a wide range of business schools at which to earn your degree. See Metro MBA's coverage of McGill University's DeSautels Faculty of Management, HEC Montreal, and Concordia University's John Molson School of Business for details on these programs.
Toronto or Montreal: Culture
While the skyline of Toronto is characterized by ultra-modern skyscrapers, Montreal is closer to its historic roots, with cobblestone streets and architecture reminiscent of its French legacy.
Each city has a thriving restaurant scene, with an amalgam of cultures and flavors adding to the melting pot, enhancing an already rich selection of global cuisine. The street food movement is strong in Toronto as well, as are pop-up restaurants and food halls.
As one would expect, the French lineage that defines Montreal makes this city very serious about its food. Montreal has the most restaurants per capita in all of Canada (second only to New York City in North America), making its scene as diverse and adventurous as that of Toronto.
Toronto and Montreal each have vibrant art, music, sports, and nightlife scenes as well. Montreal has an eclectic array of bars, clubs (both mainstream and underground) and swanky cocktail destinations. The art scene in Montreal has everything from street art to the Old Masters, making it easy to see masterpieces whether you're strolling the streets or hitting one of numerous museums.
Toronto also is known for its multitude of clubs, though a shift in the population to include more working professionals has made the scene centered around cozy pubs, sleek cocktail lounges, and brew pubs and wineries centered around locally sourced ingredients. Toronto's arts community is also vibrant, with a number of galleries, performance spaces, and music venues.
About the Author