Post tagged "boston"
Oct 7, 2019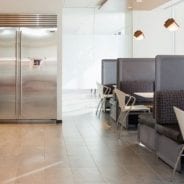 When it comes to the consulting industry, there are three top dogs: McKinsey, Bain, and Boston Consulting Group (BCG). These three elite firms offer a unique blend of prestige, expertise, and history, which make them highly sought-after employers, particularly for MBA grads. But since they're all part of the same exclusive club, how do you know where to accept a job offer: Bain or BCG or McKinsey?
Continue reading…
Aug 15, 2019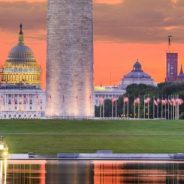 Registration is open for the 2019 Forté MBA Forums.  Designed for women considering an MBA, the Forums provide an ideal opportunity to learn more about the value of an MBA from admissions reps, alumnae, and current students at top business schools. Open to all women—career changers, college students planning the future, or career professionals looking to go to the next level—the events provide a distinct MBA advantage.
About the Forté MBA Forums
The MBA Forums are FREE and held in 11 cities across the U.S. and Europe. The events are a chance for women to build their peer support network and meet other successful businesswomen from a diverse range of industries. The MBA Forums offers exclusive insights into the MBA admissions process.
"The Forté Forum event provided the exact insights we were looking for," said Madeline Keulen, Forté MBA Forum attendee and 2019 HBS alum. "Most of the schools I was interested in had representatives at the event who could speak to the specifics of their programs, and panels of alumni enhanced the richness of the experience through their personal stories of why they chose to pursue an MBA. I have a much better sense of where I'd fit best."
2019 Event Dates and Locations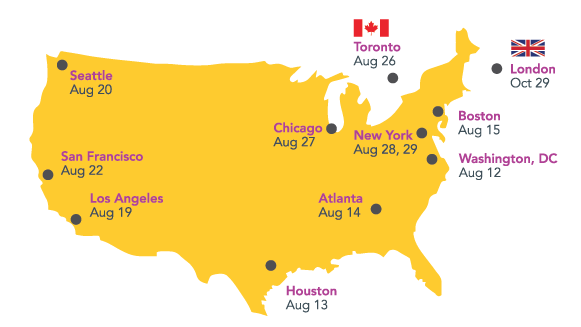 August 12, Washington, D.C.
August 13, Houston, TX
August 14,  Atlanta, GA
August 15,  Boston, MA
August 19,  Los Angeles, CA
August 20, Seattle, WA
August 22, San Francisco, CA
August 26, Toronto, Canada
August 27, Chicago, IL
August 28, New York City, NY
October 29, London, England
Sample Event Format
6–8:15 p.m. – Registration and School Fair
Connect with admissions at top business schools
Learn more about the admissions process
Find the right school for you
Networking reception
7–8 p.m. – MBA Alumnae Panel
Get advice and hear stories from top MBA women in a range of industries and at various career stages. Learn what motivated them to earn their MBA and the successes and challenges they've faced.
8:15–9 p.m. – Admissions Panel
Enjoy a panel of seasoned MBA admissions professionals from top programs. Learn more about admissions requirements, researching schools, applications, and financing.
Visit the site to see more details about locations and to register!
Aug 15, 2019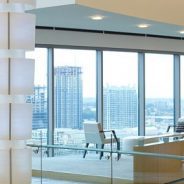 Founded in Atlanta in 1978, investment management firm Invesco has become a global leader in the field, with offices in 25 countries and over $11 billion in managed funds for its clients.
The firm, as of a July 2019, features around 8,000 employees. U.S. offices, in addition to the Atlanta headquarters, include Chicago, Dallas, Austin, Newport Beach, CA, Los Altos CA, Portland OR, Boston, and New York City.
MBAs with various levels of career experience contribute to the large talent pool from which Invesco hires. Here, we'll break down the firm's recruitment and hiring process, salary, and an overview of company culture.
Landing an Invesco Career
Invesco, like most global asset management firms of its size, has an in-house recruitment team that seeks graduate level students throughout the year. With an Early Career program for those just starting after their MBA studies, Invesco prides itself on grooming 'future asset management leaders.' Analyst roles are the most prevalent for recently graduated hires, and MBAs who possess previous work experience are obviously considered for commensurate positions.
An early career Properties Analyst in the Atlanta office says:
"What I like most about working at Invesco is the opportunities I've been given in my job. I'm a recent grad; at other companies I was just there and didn't have a ton to do. Once I started my job at Invesco, I've had challenging assignments and so many interesting projects to work on – it's really helped develop my skills and prepared me for my next role."
The company's website offers a talent network  which enables applicants to obtain optimal job matches for their backgrounds. It prides itself upon honoring their applicants' individual areas of expertise; each new hire is asked questions regarding the division in which they believe they would function best. MBAs are sought in all divisions, but a large number are hired in Finance & Accounting, Quantitative Analytics, Investment Services & Operations, Marketing & Product Management, and Sales.
Paysa reports that the most valued skills as Invesco are related to investments, with 39 percent of hires possessing this type of background. This is followed by experience in mutual funds (29 percent of hires); general management (29 percent), and asset management (27 percent).
As for interviews, Glassdoor data shows that 66 percent surveyed reported a positive experience. Around 39 percent of those who interviewed applied online, 19 percent were interviewed via referral, and 28 percent were recruited either on a campus or from another employer.
Invesco Career Compensation
New York City Invesco employees typically see the highest annual salaries ($132,000), according to Paysa. Boston follows in second ($129,000), then San Francisco ($126,000), Atlanta ($116,000), and Dallas-Fort Worth ($105,000). The overall base salary average at Invesco is $102,661. This includes a base salary of $70,000 in the 25th percentile and $125,000 in the 25th percentile.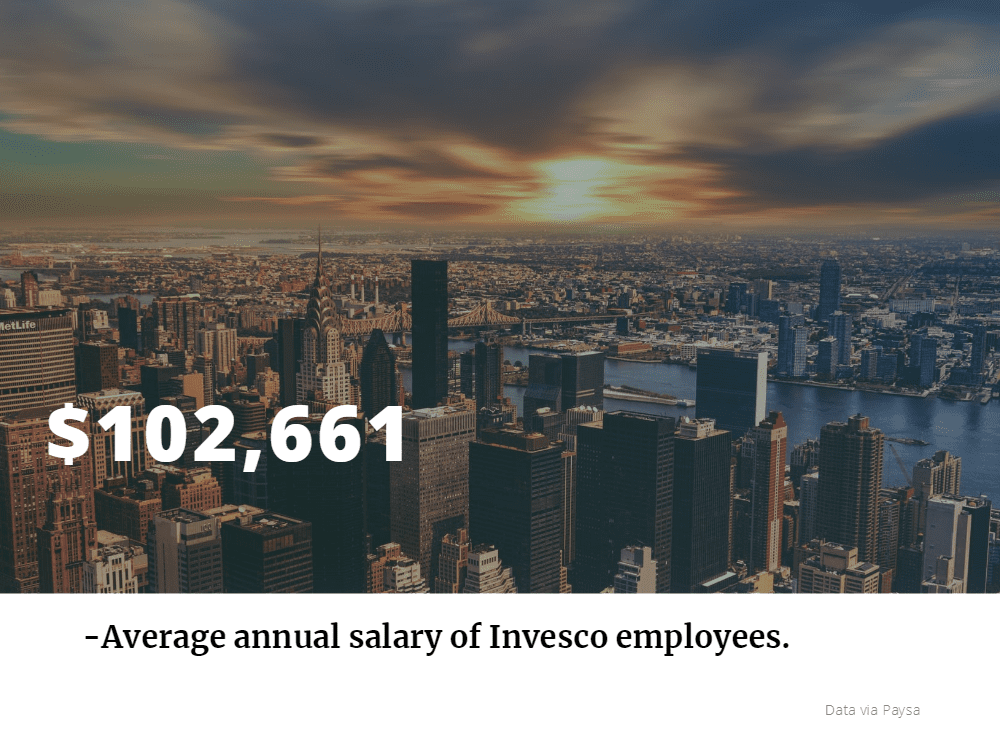 Accountants in various departments start out closer to the lower percentile. Fund accountants, along with those that manage corporate accounts, make an average of $54,000 and a range of $48,000-68,000. Senior accountants bump up to a range of $62,000-73,000. Analysts working in equities average $95,000 on average, while financial reporting analysts bring in an average of $80,000. Portfolio administrators typically earn around $60,000.
Averages for management roles at Invesco include the following:
Director – $109,000
Program Manager – $119,000
Project Lead – $108,000.
As for marketing roles, business analysts make $107,000 on average, Senior Business Analysts earn $116,000, and Marketing Managers earn $73,000, on average.
Invesco is in the top 300 highest paid finance companies according to Paysa, at 280th.
Life at Invesco
A July 2019 Indeed review on Invesco states, "Depending on the department, Invesco is a great company to work for. Some areas allow employees to work remote a few days a week and Friday's and Monday's are generally casual dress days. The work life balance is good in most departments and the benefits are okay. The health plan is way too expensive but it covers a lot. Most employees throughout the company are driven, intelligent and work hard because they really take pride in what they do and in the company as a whole."
Another employee reports "great benefits and development opportunities," and a veteran employee noted, "I worked at Invesco for 18 years so there were a lot of changes … Early morning and close of day were very busy. I had an excellent supervisor who was very supportive and made work a lot easier. Best company I ever worked for."
The company boasts a "diverse and inclusive culture," though it is reported to be made up of a 52 percent white, male identifying workforce. About 31 percent of employees are female identifying, while 20 percent did not disclose gender. Around 36 percent did not disclose ethnicity, but those who did were 7 percent Asian, 4 percent LatinX, and 1 percent African descent.
Invesco makes an effort to involve employees in charitable organizations, with volunteer events and giving opportunities. The company also prides itself on responsible investment, as stated in its 2018 Corporate Social Responsibility Report. The company offers competitive health coverage, parental leave, compensation for education and certifications, retirement planning and income protection. Like many of its peers, Invesco also offers compensation for gym memberships and wellness programs.
Aug 8, 2019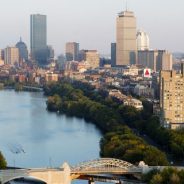 In our latest installment of the MetroMBA "5 Questions" series, we speak with Barbara Bickart, Associate Professor of Marketing and Senior Associate Dean for MBA Programs at the Boston University Questrom School of Business. Bickart talks about the school's new Online MBA, what's next to come for the business school, and what type of student may be a perfect fit for the program.
---
1.) Why You Believe Now Was the Right Time for BU Questrom to Introduce an Online MBA Program?
"Significant advances in digital technology and education delivery platforms makes it possible to now offer high-quality and rigorous degree programs in an online setting. Because of these changes, at both the university and the school level, we felt it was imperative to develop the capability to offer online degree programs at scale. Further, the global market appears strong, particularly at the lower price point. edX has received over 10,000 inquiries for an online MBA program, making it their most requested Master's degree. The edX technology platform is scalable and has a global reach of over 20 million learners, which will help us to expand our portfolio to reach a unique segment of business learners.
In addition, the global market for online professional education is sizable and there remains value in the MBA degree credential overall. According to a 2018 survey by the Financial Times, MBA grads nearly double their pre-MBA salary within three years of completing the degree.
Finally, the invitation to partner with edX provides an opportunity that aligns with our social mission to expand access to a top-tier business education throughout the world."
2.) How Will the Questrom Online MBA be Different from Other School's Online Programs?
"Unlike other online MBA programs, our program was designed from the ground up with the global online learner in mind. In the design process we leveraged knowledge gained from the BU Global Business Education Jams to create an updated and relevant MBA for the 21st century. Key themes include creating a socially responsible business, decision-making in a data-driven environment, managing with integrity, global business strategy, and developing an innovative mindset.
In addition, most other online programs offer traditional disciplinary-based courses. In contrast, our program focuses on developing the capabilities that lead to managerial and business success. By focusing on delivering capabilities versus disciplinary based courses we can leverage more fully the expertise of our alumni and other business leaders in developing exercises and cases that can better support a problem-solving approach to learning in a scaled environment."
3.) How Important is Being One of the First Major Business Schools in Boston to introduce an Online MBA?
"We are not the first online MBA in Boston. Babson, Simmons, and Northeastern offer traditional online MBA programs. We are, however, the first scaled MBA in Boston and only the second in the world.
Traditional online MBA programs are offered by about twenty of the top fifty MBA programs in the United States, and charge the same tuition as their residential program. Our scaled online MBA through edX is a new MBA category; and lies outside of the traditional and increasingly crowded online market. Our program will increase the accessibility of an online MBA both in the Boston region and globally."
4.) Is This a Sign of More Programs to Come?
"Definitely! Entering the online MBA market at this time allows us to generate new capabilities, content, and infrastructure that will create hybrid flexibility in our current program portfolio and introduce new credit-bearing and noncredit-bearing programs in the future. We see also this initiative as creating the technology platform to develop forms of digital engagement to drive lifelong learning for our alums."
5.) What Do You Believe Will be the Ideal Questrom Online MBA Candidate?
"The ideal BU Questrom Online MBA candidate is someone who has been working for about five to seven years, does not want to leave their job, and is seeking to advance their career. These individuals work in a variety of organizations, including the business, not-for-profits, education, and government sectors. They are busy people with complicated schedules and therefore seek the convenience of an online program. In addition, they may live in a location (either in the United States or abroad) where access to a high-quality MBA program is limited. They are curious and are motivated to complete a degree in an online setting."
Jul 29, 2019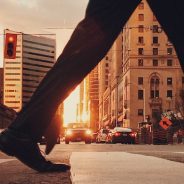 Insurance is a fast-growing career field. In the next 12 months, 63 percent of insurance companies plan to increase their staff numbers, according to a recent industry trend report.
In fact, by 2020, almost 400,000 insurance jobs are projected to be available. When combining that with the fact that millennials aren't very interested in working in insurance—only a third demonstrate any interest—it's a great career field to consider.
There's a wide range of jobs, across a broad spectrum of career paths, within the insurance industry, and compensation is higher than average. Entry-level professionals can expect to earn more than $50,000 a year, and that number only increases as you gain experience.
In this article, we're breaking down the highest paid insurance jobs, the companies where you'll earn the most money, the top MBA programs, and where you should live. Continue reading…
Jul 25, 2019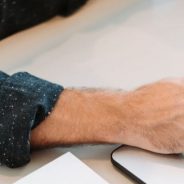 MBA graduates in marketing can experience exponential career growth. According to Payscale, graduates in marketing often earn a starting salary of $55,700, which may double to $116,000 by mid-career. As the job is links to sales success, bonuses can also be lucrative.
Those who relish the thrill to sell might be curious about what positions can maximize their salaries. The benefits of these positions can vary by location, experience, and company.
Jun 19, 2019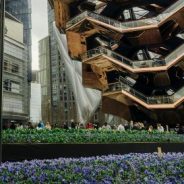 Finance, no surprise, is an extremely popular field among MBA graduates. According to Payscale, finance is 4.7 times more popular among MBA graduates than other fields. The reasons for this are rather uncomplicated: its pretty lucrative.
The starting median salary for those with up to five years of experience is $62,100. After ten years, the reported median salary jumps to $120,000; a 93 percent increase. Given that it is finance, the bonuses that employees can earn are massive, making the field even more lucrative.
With such high salaries and the prospect of massive bonuses, those interested in finance might be curious about what the best positions are for them. These can vary by company, experience, and location.
Companies Recruiting Finance MBA Graduates
The firm you work for can affect how much you make. Larger firms tend to offer more than smaller houses. The following are the top five employers in terms of average salary for those with an MBA in finance.
Morgan Stanley: $136,500
Deloitte: $132,656
Microsoft: $123,684
Amazon: $123,678
Citigroup: $121,346
Finance MBA Experience
As one might expect, the more experience one has in a field, the higher their salary will be. According to Payscale, this is a breakdown of average salary based on years of experience.
Up to 11 Months: $58,517
1–4 Years: $65,589
5–9 Years: $86,086
10–19 Years: $113,775
20+ Years: $135,016
Finance MBA Location
Along with company size and experience, location is the other major determinant of salary for finance MBA graduates. Given the fact that finance tends to be centralized in major cities, it is reasonable to assume that the largest salaries are to be found in cities with large, well-populated metropolitan areas. The following are the five cities where MBA graduates can earn the most.
New York, NY: $120,962
Los Angeles, CA: $111,727
Boston, MA: $109,490
Chicago, IL: $108,421
Houston, TX: $101,643
Top Paying Finance Careers
While there are many careers from which a finance MBA can choose, the following offer the highest salaries. To maximize a potential salary, one should consider the variables mentioned above when searching for a position.
#1: Vice President, Finance ($135,000–$195,000)
As a vice president of finance, your primary responsibility will be to direct finances and coordinate the budget. The VP of finance also sets goals and oversees lower-level employees in the financial department. Other responsibilities include engaging in accounting, operations, and finance management.
Common tasks include the following:
Ensuring company financial plans are carried out
Coordinating, preparing, and reviewing annual reports
Directing accounting operations
The average salary of a VP of finance is $134,919. In addition, MBA graduates can earn an average of $24,430 in bonuses, $24,566 in commission, and $8,757 in profit sharing. The salary on this job can raise these numbers higher depending on where one works. Look for these positions in the following cities, where you can earn more than the average:
San Francisco, CA: 28 percent more
Los Angeles, CA: 16 percent more
Boston, MA: 15 percent more
#2: Finance Director ($110,000–$160,000)
Finance directors are responsible for managing the goings on in the finance department of the company. In addition, effective finance directors can see problems and risks and design necessary solutions as needed.
Common tasks include the following:
Overseeing the preparation of regulatory and financial reporting as required
Developing policies and procedures to control and report financials
Managing budget, forecast, and accounting preparations
The average salary of a finance director is $111,384. MBA graduates can expect to earn an average bonus of $18,556, $33,000 in commission, and $5,113 in profit sharing. According to Payscale, the following are three highest paying companies for this position:
Nike: $150,000
Lilly: $130,000
CBRE Group: $128,000
#3: Investment Banker ($99,000–$207,000)
As an investment banker, your primary responsibility is to grow wealth for your clients. This can be through either strategic investing or raising capital. Investment bankers look through all of the financial information of a company to develop the best strategy for addressing its concerns and reaching its goals.
Common tasks include the following:
Constructing financial models to aid in transactions and communications
Performing valuation analyses
Conducting industry and company research
On average, you can expect to earn an average of $98,831 in salary. Investment banking is rather lucrative, so it is not impossible to double your salary in commission alone. However, because if this, the salary scale can widely vary. The average commission for this position on Payscale is $90,000. To make that possible, you'll need to go to a city where capital generation is needed. These three places pay more than the average, according to Payscale:
San Francisco, CA: 52 percent higher
New York, NY: 12 percent higher
Dallas, TX: 5 percent higher
#4: Finance Manager ($90,000–$124,000)
Finance managers are expected to watch departmental budgets. Their primary responsibilities include making financial forecasts for their company, working with other departments to establish future budgets, and keeping excellent track of the money going in and out of the company.
Common tasks for people in this position include the following:
Identifying areas for cost reduction
Providing analyses to the operations team
Preparing informational analyses
Given the importance of this position, MBA graduates who pursue it will be compensated well. The average salary for a finance manager is $89,636. In addition to the base salary, an MBA graduate can expect an average of $9,959 in bonuses, $25,006 in commission, and $3,982 in profit sharing.
Because this position is so important, companies are willing to pay excellent candidates well. The following offer the three highest average salaries according to Payscale:
Boeing: $119,000
Amazon: $112,000
Johnson & Johnson: $111,000
#5: Portfolio Manager ($84,000–$140,000)
Portfolio managers are responsible for investing their clients' money, whether those clients are businesses or individuals. They work to get the highest return possible for their clients' money.
Common tasks for this position include the following:
Consulting with clients to develop investment goals
Reporting on investment performance
Managing portfolios to maximize returns
Portfolio managers earn an average of $84,443, with $10,274 in bonuses, $10,113 in commission, and $4,000 in profit sharing. According to Payscale, these positions tend to be centered in financial institutions and investment firms.
The following three banks offer the highest average salaries to their portfolio managers.
Blackrock: $115,000
S. Bank: $99,000
Citizens Financial Group: $97,000
May 17, 2019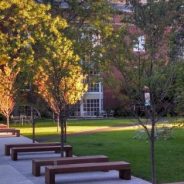 Hopeful applicants to the next MBA class at Harvard Business School have a new batch of deadlines to keep tabs on.
New Harvard 2019-20 MBA Deadlines
Round One
Application deadline: Sep. 4, 2019
Decision released: Dec. 10, 2019
Round Two
Application deadline: Jan 6, 2020
Decision released: March 31, 2020
---
Learn more about the Harvard Business School full-time MBA program here.
Apr 29, 2019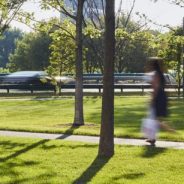 Each year, the Harvard Business School New Venture Competition brings together the best and the brightest to compete for $300,000 in cash prizes. Designed for both HBS students and alumni, the competition offers two tracks: the Business Track and the Social Enterprise Track. Both tracks require teams to present a new venture idea that will have a substantial impact on their respective market. Winners have the opportunity to go ahead and implement their proposal using the provided seed money.
For 2019, 48 teams from across Harvard University applied for the Social Enterprise Track. Then, sixteen semifinalists were chosen to present their ideas to a panel of expert judges in their fields. Finally, four finalists were selected. Here's who they are.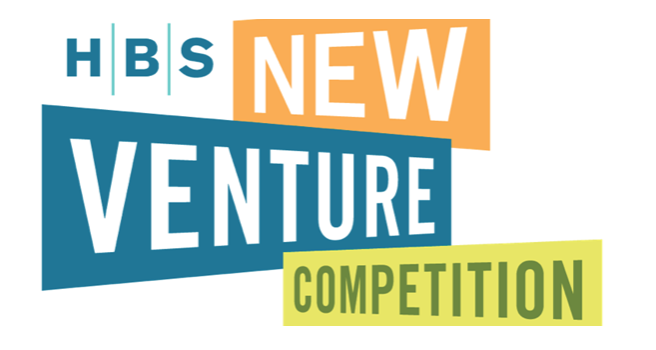 Gramhal
Presented by Vikas Birhma (HKS 2019) and Pankaj Mahalle, Gramhal offers post-harvest services of storage, credit, and market linkage for smallholder farmers. Having witnessed the problems that smallholder agricultural households in India face first hand, the team came up with an idea to help farmers keep more money by giving them the chance to save their harvest until they can sell it when prices are more favorable.
Hikma Health
Developed by Jordan Lebovic (HBS/HMS 2020), Senan Ebrahim (HMS 2021), Erik Grueter, and Zahra Allkhateeb, Hikma Health creates customized data management systems for healthcare providers caring for refugee patients. The idea initially started with a health education app for NGOs in Jordan. However, after talking to more health workers, the team realized that a free health data platform, tailored to refugees, would be far more valuable.
New Teachers Thriving
Created by Tyler Hester (HGSE 2020), Crystel Harris (HGSE 2021), and Akash Wasil, New Teachers Thriving offers training for early-career teachers. Many new teachers become burned out in their first years because they don't have the training, support, and help they need to succeed. New Teachers Thriving is a year-long training sequence that will support new teachers as they navigate their first year in the classroom.
Vincere Health
Put together by Jacob Keteyian (HSPH 2019), Shalen De Silva (HSPH 2019), Ollie Osunkunle (HBS 2020), and Han Jin (HGSD 2019), Vincere Health helped people get paid for digitally proving health compliance while offering data control. The idea behind the product is to motivate health behaviors by offering daily rewards. In particular, they are attacking the smoking cessation market.
Read more from each of the finalist about entrepreneurship, concept creation and more on the HBS website.
---
This article has been edited and republished from its original source, Clear Admit.
Mar 28, 2019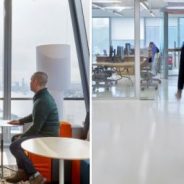 Whether you're still in school or you've already earned your MBA, it can be a tall order to shuffle through the sheer numbers of job options. Perhaps you're even fortunate enough to have a number of offers that seem appealing but you're wondering how to find the best fit.
If you've chosen to specialize in consulting, you're well aware that you'll be on a large playing field comprised of multiple heavy hitters. Here, we'll compare two of the biggest draws—Boston Consulting Group (BCG) and McKinsey and Company—which may be helpful in honing in on your dream job.
Where Should I Work? BCG vs. McKinsey
BCG vs. McKinsey: The Interview Process
Regardless where you've applied, chances are you've readied yourself for an intense interview. No interview is without its stressors, but both McKinsey and BCG are known for a particularly rigorous interview processes. These companies engage potential employees in a two to three round process that includes both a fit and case portions (that is, are you a good match with the company, and can you solve real-world problems with which you're presented). As discussed in this helpful guide on BCG interview prep, you'll first be posed with case and fit questions, along with a test of your potential which often takes place in the first round. Candidates are then asked to complete written case examinations, in which they will review a number of documents and submit a response to the case in question.
Like BCG, McKinsey's interview process can last two-to-three months. According to one source, one of the major differences between the two is that "McKinsey pressure tests to determine whether handling pressure is something you can do … [while BCG] pressure tests not to see if you know what you're talking about, but rather to see if you really believe what you're saying."
McKinsey breaks down its process into three main sections: experience, a multiple choice problem solving test (PST), and case studies. According to one interviewee, "I interviewed with multiple people ranging from engagement managers to partners. No surprises on interview day as McKinsey spends a lot of time with applicants preparing for the case study."
BCG vs. McKinsey: Compensation
Both companies offer a healthy starting salary with a base of at least $165,000. At McKinsey, recently hired MBAs can make above $200,000 in the initial year, with a $30,000 signing bonus and a performance bonus of $35,000. BCG boasts a performance bonus of up to $45,000, making it the more lucrative of the two for first year hires. Typically, McKinsey sets the standard for salary, and beats BCG to the punch in increasing salary rates.
| Company | Annual Salary | Bonus | Singing Bonus | Total Compensation |
| --- | --- | --- | --- | --- |
| Boston Consulting Group (BCG) | $167,000 | $45,000 | $25,000 | $237,000 |
| McKinsey and Company | $165,000 | $35,000 | $30,000 | $230,000 |
While responsibilities at each firm are similar for a newly hired MBA, job title varies slightly. At McKinsey, the title is Associate, while at BCG it is Consultant. Finally, for further comparison, McKinsey and BCG and Bain (the other third of the Big Three) pay around 20 percent more than the "Big 4" accounting firms.
BCG vs. McKinsey: Culture
For many people, culture is the deciding factor when choosing between two potential companies. It can be one of the most important elements of a job, over and above the more tangible benefits. According to Management Consulted, at McKinsey, associates "are trained to attack a problem in a certain way –  no matter which global office you're in or at what level, you can count on the McKinsey Way." According to many, McKinsey's culture is considered formal and "buttoned up."
As for BCG, one employee describes their experience as follows:
"

Lovely people and flat leadership structure allows for a great culture that promotes camaraderie and encourages learning between peers and from people above you.

"
Another employee sang the praises of its "fancy offices." The company is known as a trendspotter, and has the reputation for a customized approach to getting and retaining clients. McKinsey is known for its lengthy client relationships and a focus on reporting.
BCG vs. McKinsey: Geography
BCG and McKinsey's home offices are both in the U.S. (Boston and New York, respectively) and both have global presence. McKinsey has the most offices worldwide at 65, and the largest number of consultants. BCG's global reach covers 50 countries. New hires can expect to travel extensively at both companies, with the expectation being four days of travel to client sites and Fridays in the home office.
BCG vs. McKinsey: Career Development
Both firms adhere to the 'up or out' rule of promotions, that is, after two years one decides whether they will stay or depart. Upon remaining at BCG, employees find a large number of opportunities for professional growth. Top performers receive rewards such as a part in a strategic project along with their international counterparts.
According to their site, "Every new BCGer is hired with the belief that he or she will be a long-term employee, capable of substantial professional and personal growth within the firm. We recognize and value each individual's desire for world-class opportunities."
At McKinsey, associates are assigned early on to specific practice areas. With two tracks, a subject expert and a generalist tract, the company encourages employees to be flexible in acquiring new knowledge and skills that will help them to grow. Notably, McKinsey encourages applicants to join the company who may have gotten an MBA but who have a prior non-business degree. According to Management Consulted, "If your education and/or work experience is 'outside the norm,' McKinsey is more likely to consider you than BCG".
Both McKinsey and BCG are ahead of the curve in assigning new hires to specialty areas, as many firms wait until hires advance to senior levels to assign their practice focus.
BCG vs. McKinsey: Recruiting
McKinsey, as mentioned above, was one of the first management consultants to hire recent graduates of MBA programs as opposed to seasoned managers. They continue to engage in this hiring practice, as does BCG but to a lesser degree. Both firms hire on a locked-in schedule, with recruiting cycles beginning in the fall. It's important to note that existing consultants have a greater influence upon hiring decisions than recruiters.
BCG notes that "Our case teams share many similarities with MBA study groups, brainstorming together to create maximum value." Though their hiring process is rigorous, once they do hire, the possibilities are numerous for growth potential at both firms.
While it may seem obvious, it's important to point out also that alumni from either company have a great chance of future growth at other firms.