Nov 12, 2019

Boston's storied position in American cultural history continues to unfurl and evolve. Beantown was where the nation's independence was fomented and fought for. It was and remains an intellectual hub, home to several of our country's elite institutions. Boston is also an active business hub, offering a variety of career possibilities for MBA graduates. This week's article features jobs that have emerged in Boston and its environs within the past week.
Continue reading…
Nov 5, 2019

For the second-consecutive year, the Stanford Graduate School of Business earned the top spot in Bloomberg Businessweek's annual U.S. business school ranking. However, a new entry near the top of the ranking may be a slight surprise, with the Dartmouth College Tuck School of Business claiming the second spot.
Continue reading…
Nov 5, 2019

It's no secret that data and analytics have become integral parts of the business landscape. Companies are working hard to translate the information they receive from their customers into a competitive advantage in the marketplace. The New York City data analytics jobs listed in this week's dispatch all are opportunities for MBA graduates to translate their knowledge of the digital marketplace and technology into a career.
Continue reading…
Oct 7, 2019

When it comes to the consulting industry, there are three top dogs: McKinsey, Bain, and Boston Consulting Group (BCG). These three elite firms offer a unique blend of prestige, expertise, and history, which make them highly sought-after employers, particularly for MBA grads. But since they're all part of the same exclusive club, how do you know where to accept a job offer: Bain or BCG or McKinsey?
Continue reading…
Sep 24, 2019


Join the world's largest MBA tour in Boston!
An MBA is a distinction in the workplace and a designation in the world of business. However, more importantly, it's a confidence booster, a way of thinking analytically and critically, and a training ground for making better personal and professional decisions.
This event will answer all of your MBA-related questions through presentations, networking opportunities, and valuable interactions with recruiters from 30+ top business schools.
In addition, you'll also receive the following for free: a professional LinkedIn Headshot, your resume reviewed, access to a pool of scholarships worth $7M and much more.
All of this is FREE of charge for those attending, so register today! Space is limited.
Aug 15, 2019

Registration is open for the 2019 Forté MBA Forums.  Designed for women considering an MBA, the Forums provide an ideal opportunity to learn more about the value of an MBA from admissions reps, alumnae, and current students at top business schools. Open to all women—career changers, college students planning the future, or career professionals looking to go to the next level—the events provide a distinct MBA advantage.
About the Forté MBA Forums
The MBA Forums are FREE and held in 11 cities across the U.S. and Europe. The events are a chance for women to build their peer support network and meet other successful businesswomen from a diverse range of industries. The MBA Forums offers exclusive insights into the MBA admissions process.
"The Forté Forum event provided the exact insights we were looking for," said Madeline Keulen, Forté MBA Forum attendee and 2019 HBS alum. "Most of the schools I was interested in had representatives at the event who could speak to the specifics of their programs, and panels of alumni enhanced the richness of the experience through their personal stories of why they chose to pursue an MBA. I have a much better sense of where I'd fit best."
2019 Event Dates and Locations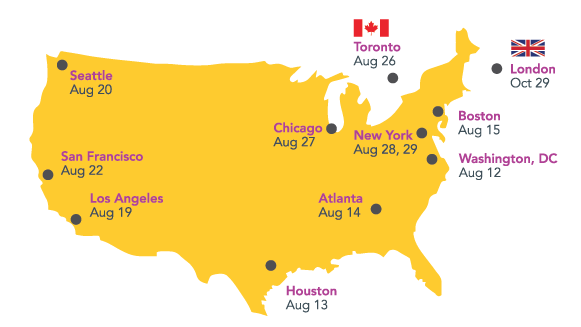 August 12, Washington, D.C.
August 13, Houston, TX
August 14,  Atlanta, GA
August 15,  Boston, MA
August 19,  Los Angeles, CA
August 20, Seattle, WA
August 22, San Francisco, CA
August 26, Toronto, Canada
August 27, Chicago, IL
August 28, New York City, NY
October 29, London, England
Sample Event Format
6–8:15 p.m. – Registration and School Fair
Connect with admissions at top business schools
Learn more about the admissions process
Find the right school for you
Networking reception
7–8 p.m. – MBA Alumnae Panel
Get advice and hear stories from top MBA women in a range of industries and at various career stages. Learn what motivated them to earn their MBA and the successes and challenges they've faced.
8:15–9 p.m. – Admissions Panel
Enjoy a panel of seasoned MBA admissions professionals from top programs. Learn more about admissions requirements, researching schools, applications, and financing.
Visit the site to see more details about locations and to register!