Dec 31, 2018

Each year there's a ton of new information that comes out about MBA programs. From new rankings to the latest GMAC news, there are a thousand little tidbits that can overwhelm applicants, students, and alumni. We've collected the most important MBA numbers of 2018.
To pare down the news into the information you need to know, we've taken a look at the big picture of the MBA for 2018 and outlined the five most important pieces of data you need to know. We're talking about everything from the decline and U.S. MBA applications to the increase in female enrollment, the higher salaries and GMAT scores, as well as the increase in interest in technology. Continue reading…
Dec 17, 2018

Return on investment post-MBA is one of the main considerations for candidates. After all, who would want to spend tens of thousands of dollars on an education without a solid salary afterward? That's why it's so important to look at how the best MBA programs can affect a graduate's salary.
So, where should you go to school for your MBA if you want the best salary after graduating? We're taking a look at the highest earning MBA programs per country to dig down into what you can earn as an MBA all over the world.
Dec 3, 2018

To get into an MBA program, you'll first have to make it through the interview process. Depending on where you apply, you could be asked a range of different questions, many of which are specific to the school. Unfortunately, this can make it difficult to prepare for success, especially if you're applying to more than one school at a time.
To help you prepare for your MBA interview, we've gathered together the five most common MBA interview questions, along with advice for answering each question. But first, we need to figure out what questions you're most likely to run into.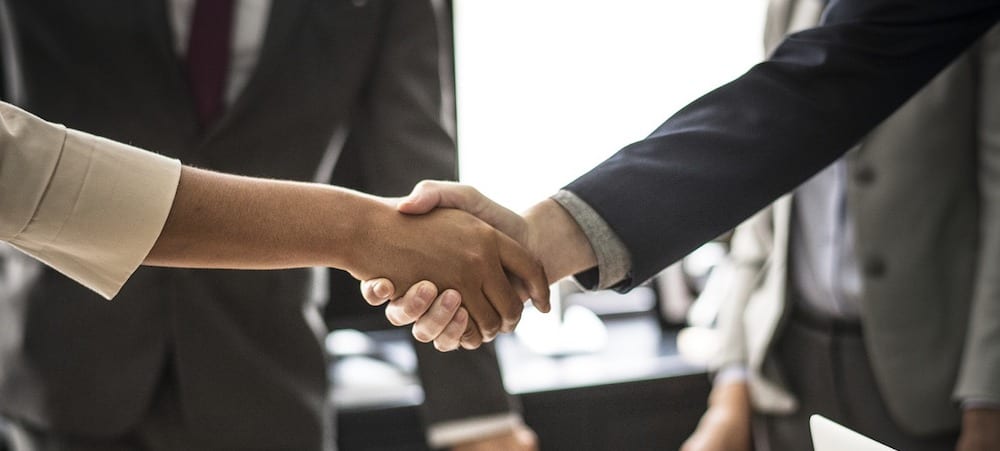 Determining the Five Most Common Interview Questions
In a recent podcast on Clear Admit, Alex Brown, who wrote Becoming a Clear Admit: The Definitive Guide to MBA Admissions, tackled some of the most common MBA interview questions faced by current applicants. He unpacked interview questions such as, "Walk me through your résumé" as well as "Give us an example of a time you took a leadership role."
To get a full idea of the most common interview questions, we took a look at the top ten schools as outlined by the U.S. News & World Report to figure out which questions were asked by the most schools. We looked at:
At each of these schools, there were a few common denominators when it came to questions asked. Here's what we found:
1. Why did you choose this school/program?
Almost every school, except MIT Sloan and Harvard Business School, wants to know why you're interested in their specific program. After all, admissions teams know that you're interviewing at more than one school and they want to know that you've done your research and chose schools that were a good choice for you personally. They don't want to necessarily know that you know the history or prestige of their school or program, they want to know how their program aligns with your goals and interests and how it makes practical sense for you.
When answering this question, you want to try and be as specific as possible when it comes to "why" this program. Be sure to know which clubs, classes, centers, professors, case studies, alumni, or events fit into your MBA goals. This is your best opportunity to demonstrate your research and to show the admissions committee doesn't question why you chose them, and that you've taken the time to imagine what it's like to attend their school.
2. Why are you pursuing an MBA now?
You can go back to school for your MBA at any time, but why are you interested in going back now? That's what every school wanted to know except for Wharton, HBS, and Columbia. The goal with this question is to figure out how an MBA fits in with your current goals for your career and objectives.
During this question, you want to talk about your future career plans and why your situation in life is leading you to make a move to the MBA now. You'll want to discuss your motivation for choosing the MBA now and how the MBA will help your long-term interests be accomplished. Make sure your explanation plots out a path where the MBA is vital to reaching your goals.
3. Walk me through your résumé.
All but four schools on our list asked students to walk them through their resume. Often, this is the first question that you may be asked in your interview. The goal of this question is to allow you to give a summary of your experience to date. This gives the interviewer some groundwork that they can build upon for the rest of the interview. So, how you answer this question is vitally important.
This question might appear very simple at first glance, but it can have a lot of little landmines that you'll want to avoid. A good approach to this question is to think of it as your resume executive summary but in verbal terms. The interviewer is looking for key descriptive terms that define who you are. This is your opportunity to weave in some strengths, passions, and interests.
We suggest coming up with a two- to three-minute verbal version of your resume that focuses on highlights in your career. Make sure you focus on "why" you made certain career choices to better explain your path and then highlight the outcomes of those choices.
4. Tell me about a time you demonstrated leadership. What did you learn from it?
This can be a tricky question, but it's definitely one that you could come across since all but four schools were reported as asking it. The goal here is to demonstrate that you've had some experience in a leadership role, even if it's not traditional. During this question, you can speak about any influence you may have had over your peers—outside of traditional hierarchy—or leadership skills you may have gained during a project.
The key is to prepare three to four anecdotes that you can draw from to highlight such things as your leadership style and skills. In particular, make sure you can talk about key leadership skills such as vision, communication, teamwork, and so forth. And if you can, make sure you can quantify the outcomes of your experience.
5. Are there any questions you'd like to ask the interviewer?
At all but two of the schools—Harvard and Dartmouth Tuck—interviewees were asked to finish out the interview with their own questions. While this might appear to be a simple question at first, it is vital that you get it right. No admissions committee wants you to be a passive candidate, and this is your chance to demonstrate that you are thoughtful, prepared, and interested.
The key here is not to be generic and only ask questions like, "Why do you love X school?" Instead, you want to ask questions that are specific to your goals. For example, you might ask, "What other resources does the school offer for this industry?"
In the end, whether you've already been invited to a few interviews or you're still waiting to hear back, it's important to get prepared as quickly as possible. By practicing answers to some of these common questions, you can ensure that your interviews go off without a hitch.
Nov 28, 2018

Let's explore some of the most interesting stories that have emerged from Chicago business schools this week.
---
Northwestern University Kellogg School of Management Professor of Finance Dimitris Papanikolaou recently co-authored new research that illuminates why "pharmaceutical firms these days often make minor changes to existing medications instead of delivering innovative drugs."
The study, which was co-authored with HBS's Joshua Krieger and MIT Sloan's Danielle Li, found that "financial frictions may be limiting innovation."
According to the article, "The researchers found that firms were eager to work on novel drugs—under the right financial circumstances. When pharmaceutical companies got a windfall, such as a sudden increase in profits, they were more likely to spend it on developing novel drugs than on incremental improvements."
You can read more about the trio's research here.
The University of Illinois Gies College of Business recently profiled current Master of Accountancy Science student Hamed Kadiani whose social entrepreneurship journey began as part of student organization Illinois Enactus, which helped him understand his desire to see "what the root of the problem is, and then develop a solution that fixes the cause, not the symptom."
Kadiani later served as project manager for Project Oasis, an "online center that connects immigrants to resources in Champaign-Urbana, provides access to 75 resources in six main focus areas such as healthcare and education, [and] teaches immigrants financial literacy and entrepreneurial skills."
According to the interview, Kadiani plans to become a CPA but shared his ambitions to some day run for political office.
"I hope I made an impact on campus, but I truly believe this work made more of an impact on me. I am who I am today because of this university and Gies College of Business."
You can read more from the Gies College of Business News profile here.
Notre Dame Mendoza's Marketing Department recently recruited Professor Timothy Bohling, who will teaching Digital Marketing to both undergraduate and graduates in spring 2019.
Having previously held senior executive leadership positions at Stratasys, HCL Technologies, and IBM, Bohling's research and teaching interests are "centered both on scholarly rigor and practitioner relevance in areas of digital marketing, customer relationship management, decision modeling, customer lifetime value and innovation adoption."
You can read more about Bohling, his research, and the 2019 courses here.
Nov 13, 2018

Let's explore some of the most interesting stories that have emerged from Boston business schools this week.
---
BU Questrom School of Business Richard C. Shipley Professor in Management Iain M. Cockburn, an expert in innovation, was recently interviewed by the business school's magazine, Everett, about his new paper "The Impact of Artificial Intelligence on Innovation." His research, written alongside members of Harvard and MIT and published in the National Bureau of Economic Research, explores the long-standing potential of artificial intelligence, which can become a more all-purpose technology, rather than a niche concept or simply a tool to replace every degree of human labor.
Cockburn argues that AI, if used wisely, can replace the menial tasks associated with white collar employment, such as legal services.
"What a lot of people are sitting up and noticing is that this form of automation or replacement of human work with a computer is now percolating into areas that have been largely unaffected by previous technological revolutions," he says. "Take legal services. It turns out that by using this technology, you can create systems that will do a lot of low-level legal work, like scanning contracts, reviewing contracts, or reviewing documents."
A pessimistic view could say developments like this could lead to job loss, which may be true. However, in the evolution of the modern job environment, flushing out repetitive tasks that do not require critical or imaginative thinking could allow people to focus on larger issues, rather than bogging down daily routines.
"Then there's a second question: 'If I didn't have to spend so much of my day doing that, what could I be doing that involves imagination, insight, critical thinking?' So, for some people, their jobs are going to get much more interesting."
You can read more from the Everett interview of Cockburn here, and check out the "The Impact of Artificial Intelligence on Innovation."
Assistant Professor Ayelet Israeli, "an expert in channel management, pricing, online marketing, and eCommerce" took to HBS's Cold Call Podcast to discuss Gap CEO Art Peck's move to eliminate its creative director and "turn to big data to predict what the big next designs are going to be."
Since Gap is now identified as a basics brand, Israeli explains that "maybe it's okay to sell the trend that everyone else is selling. If you're selling something that is more fashion forward, then you're in a bigger problem because you need someone to create this new trend and not just spot the trend that everyone else is doing."
"The other part of [Peck's big data] strategy is essentially to shorten production cycles that they had at the Gap. They were from traditional companies that take about 10 months, almost a year, from when they decide on something and it reaches stores. Now they shortened it to about eight to 10 weeks for most of their product categories."
You can find the full HBS article here.
BC Carroll's Corcoran Center for Real Estate and Urban Action announced a new case competition and panel discussion moderated by Boston Capital Vice President and Director of Communications David Gasson entitled, "The Future of Housing."
The competition is "intended to hone students' analytical skills in the field, raise awareness about issues connected to affordable housing development, and offer an in-depth look at the Low-Income Housing Tax Credit as a tool that helps both communities and developers of affordable housing."
Corcoran Center Executive Director Neil McCullagh writes, "This competition will be a way for students to understand that housing challenges are deeply connected to every facet of our lives. It will also provide them great vision into an industry where they can do well while doing good."
"In the competition, students will be analyzing a real housing deal. They will need to present their best understanding of the policy and their analysis of the deal outlined in the case. They will then present their solution and recommendations to the judges. The best team will walk away with the grand prize."
Read more about the "Future of Housing" case competition here and the full Boston College News article here.
Nov 9, 2018

Harvard Business School (HBS) is the latest top business school to publish its employment stats for its most recent graduates. What are the top takeaways? Try starting salaries exceeding $160,000.
This year's median base pay, $140,000, is up $5,000 over last year. In addition, 65 percent of the class earned median sign-on bonuses of another $25,000. There were also other upticks, with 14 percent of students reporting median guaranteed first-year comp of $28,500, up from 13 percent and $25,000 the year before.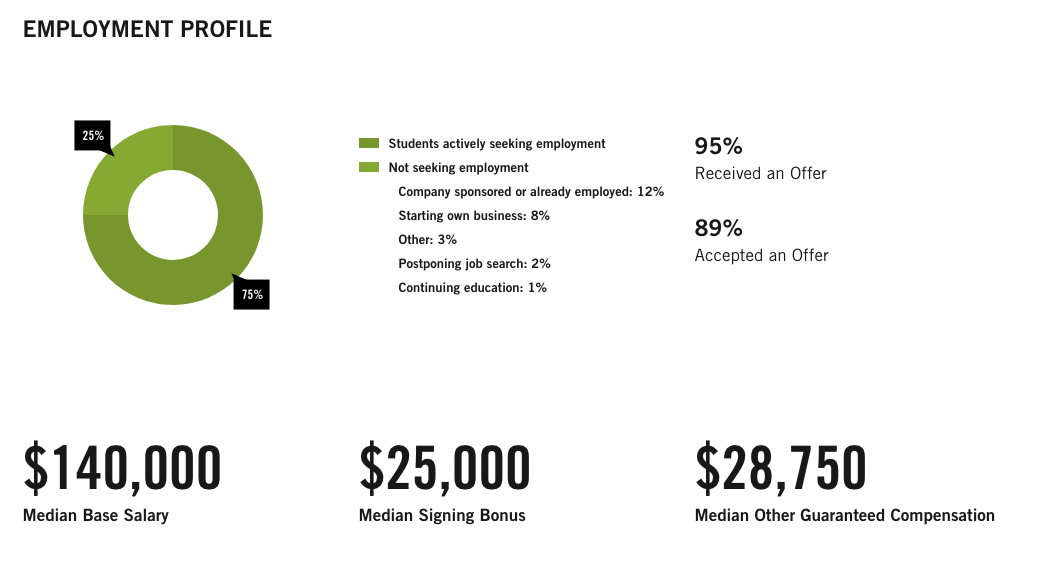 Within three months of graduating, 95 percent of the class reported receiving at least one job offer, and 89 percent had accepted an offer. These stats were both unchanged year over year. When there's a gap between the percentage of students reporting offers those accepting offers—as with these latest HBS grads—it's often considered to be the reflection of a strong job market. Under these circumstances, graduates from the very top schools can bide their time and hold out for the offer that really wows them.
Financial Services, Consulting, Tech Vie for HBS Grads
In terms of industry, three dominate when it comes to hiring the latest HBS grads. Financial services drew the largest slice of the class—29 percent—which is off from 31 percent last year but on par with the year before that.
Consulting took another quarter of the class, 25 percent, up from 23 percent last year. Technology, meanwhile, beckoned to roughly a fifth of the class—19 percent, up from 16 percent last year. Other industries saw small shifts year over year of one or two percentage points.
More Students Join Startups
HBS changed its definition of a startup this year in terms of how it tracks employment data. Startups now refer to organizations that are still private and, at most, 10-years old. By this measure, HBS grads who opted to join a startup straight out of school make up 9 percent of the class, as compared to 8 percent last year. The median starting salary for graduates going into tech is $130,000—the same as last year. Half of the startups where students landed are in the technology space, up from 45 percent a year earlier. Other top industries for startups include manufacturing (13 percent), financial services (12 percent) and consumer products (6 percent).
Another 70 students in the Class of 2018—8 percent—founded their own startups. That's up from 64 last year. Of this year's new ventures, 28 have a social impact focus, up from 16 last year.
HBS Class of 2019 Internships
HBS also released employment data for the summer internships pursued by students in the Class of 2019, revealing a median base salary of $7,800, down $200 year over year. More students, 89 percent, sought internships this past year, up from 87 percent the year before.
More students in this most recent class pursued internships with financial services firms, 32 percent as compared to 26 percent of the class before. Meanwhile, slightly fewer students pursued internships in technology and consulting. Tech firms drew 18 percent of the class for internships, down from 20 percent the year before. Consulting interns made up another 15 percent, down one percentage point from the year before.
---
This article has been edited and republished with permissions from Clear Admit.