Where Should I Work: PwC or KPMG?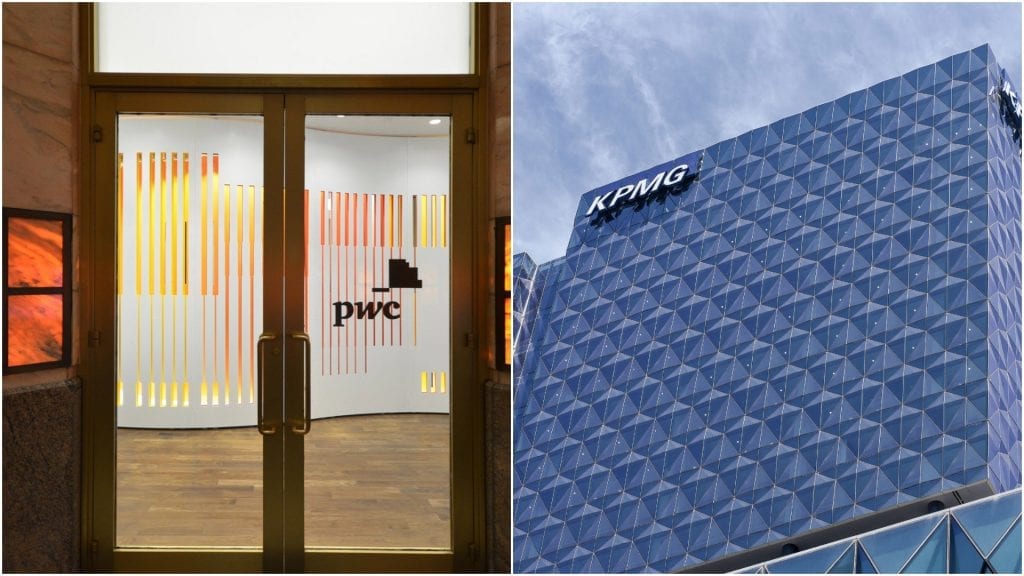 If you're interested in a career in consulting, PricewaterhouseCoopers (PwC) and KPMG are two of the top names in the business. As elite professional services firms, they have a lot to offer MBA graduates in terms of high salaries, culture, and career development. And that's on top of their unique internship and recruiting opportunities specific to MBAs.
The question is where should you work? If both PwC and KPMG are considered top-notch in the consulting industry, does one outweigh the other? We think they both have their strengths and weaknesses, but to help you make a decision, we're breaking it all down in our "Where Should I Work?" series.
Recently, we compared Deloitte and Accenture, two other big names in the consulting industry. But for now, let's break down PwC and KPMG.
About PWC
PwC is one of the largest professional services firms in the world. In terms of size, it ranks just below Deloitte but above KPMG with a revenue of $41.3 billion. It's known as one of the "Big Four," and is a top choice for MBAs interested in consulting. The company operates in over 158 countries and provides services to 420 Fortune 500 companies.
At PwC, most MBA graduates start at the senior associate level within a particular industry such as finance, operations, people & organization, risk, technology, and corporate finance. As an MBA, you'll be on a fast track to a management position and earn a competitive job package including a substantial base salary, signing bonus, and additional benefits (more about this later).
About KPMG
KPMG is the smallest of the "Big Four" professional services firms, but still a multinational corporation. It has an annual revenue of $28.96 billion and operates in over 154 countries around the world. With more than 207,000 employees across three lines of services: financial audit, tax, and advisory, it's an attractive company for new MBA graduates.
Most MBA graduates join KPMG in a management positions as consultants. You'll have the ability to choose your industry from a wide array of options including asset management, banking, healthcare, insurance life sciences, private equity, energy, technology, and more. As n MBA you'll be expected to demonstrate competence in data and analytics strategy, client handling, and executive communication. If you do this, you'll earn a competitive salary as well as performance bonuses, and additional benefits.
Where Should I Work? PwC or KPMG
Internships
At PwC, MBA students can take part in their Senior Associate internship experience. It offers a unique opportunity for students to apply academic experience to complex business issues. During the internship, students receive comprehensive training and on-boarding to deepen their skills, expand networks, and accelerate their path to management. You'll gain authentic client experience, and post-internship. More than 88 percent of MBAs go on to become full-time employees after graduation.
KPMG is known for their "Build Your Own Internship Program" (BYOIP), which enables students to intern in two practices chosen from audit, tax, or advisory. One practice will be your "core" experience and the other will be considered "developmental" experience. However, there's also a Global Internship Program (GIP) for students interested in interning abroad for four weeks.
Interviewing
PwC refers to their application process as a "journey." It's a five-stage process, where you'll have to pass every stage to receive an offer. The stages are:
First, you'll register online and complete a 30-minute exam to test your numerical reasoning.
Second, you'll complete a video interview as part of the pre-screening process. This replaces your cover letter.
Third, you'll visit the assessment center for a full-day event, which includes two to three stages, such as group exercises, interviews, and more exams.
Fourth, you'll go through a one-on-one interview with a manager and partner to demonstrate your clear interest in PwC.
Finally, if you pass every stage you'll receive an offer letter and be invited to join the PwC portal.
Interviewing at KPMG is a four-step process.
It begins with your CV screening. You'll be reviewed based on your GPA, work experience, professional development, track record, and achievements.
Next, you'll be assigned a written case as a remote assessment. This is an at-home task that will assess your abilities.
If you pass your homework assignment, you'll be brought in for an HR interview where you'll discuss your background, experience, motivation, and more.
Finally, you'll be brought in for 2-3 case interviews with strategy group consultants.
Compensation
According to 2018 salaries collected by Management Consulted, MBAs at KPMG can expect to earn slightly more than at PwC. The main difference can be found in the signing bonus, which is $10k more at KPMG as well as the slightly higher base salary.
| Firm | Base Salary (USD) | Performance Bonus (USD) | Singing Bonus (USD) | Total (USD) |
| --- | --- | --- | --- | --- |
| PwC | $140,000 | $27,000 | $25,000 | $192,000 |
| KPMG | $145,000 | $25,000 | $35,000 | $205,000 |
Culture
PwC is known for its friendly culture and lifestyle. The company offers a wide range of social events, sports events, and other "quality of life" initiatives, more so than any of the other Big Four. They are seen as a firm that "takes care of its employees" and places a significant emphasis on employee happiness. However, this can also come alongside a long path to partnership as well as unclear expectations of performance.
KPMG is known for having "great people." However, that's probably because the company demands a lot. It believes in the philosophy of "if you work hard, you'll quickly advance." So you might have a lot of responsibility thrown at you quickly to help you build your skills, which can lead to long hours and poor work-life balance.
Recruiting
Both PwC and KPMG recruit from many of the top MBA programs in the world. However, there are a few programs that send a large percentage of their graduates to work at these two prestigious firms. They are:
About the Author