MBA Job Openings: International MBA Jobs at UBS, Credit Suisse, and More

In our rapidly changing world, more and more financial centers have sprung up throughout the Middle East, Asia, and Africa, joining the ranks—and one might argue decentralizing the stranglehold—of established Western hubs. This week, we took it upon ourselves to investigate a few enticing job international MBA jobs.
Business Strategist — UBS
UBS is one of the best-known Swiss Banks. With a market capitalization of $64.5 billion and $3.22 trillion in assets, UBS is considered to be one of the most powerful financial institutions in the world.
UBS is hiring a Business Strategist for its Zurich and London offices to develop a global strategy and create a regional corporate strategy for the EMEA region. In addition, the UBS Business Strategist will oversee the production and dissemination of market intelligence. The job requires previous relevant experience and an MBA is preferred.
The responsibilities of the UBS Business Strategist include:
Conducting benchmark analyses
Monitoring the implementation of strategic initiatives
Preparing and coordinating business plans
Visit UBS to learn about more available positions.
Senior Financial Analyst — BMO
The Bank of Montreal, or BMO, is one of Canada's big five banks. Founded in 1817, it is the oldest bank in the country. In the 200-plus years since its founding in a rented house in Montreal, BMO has expanded to the United States and elsewhere across the globe.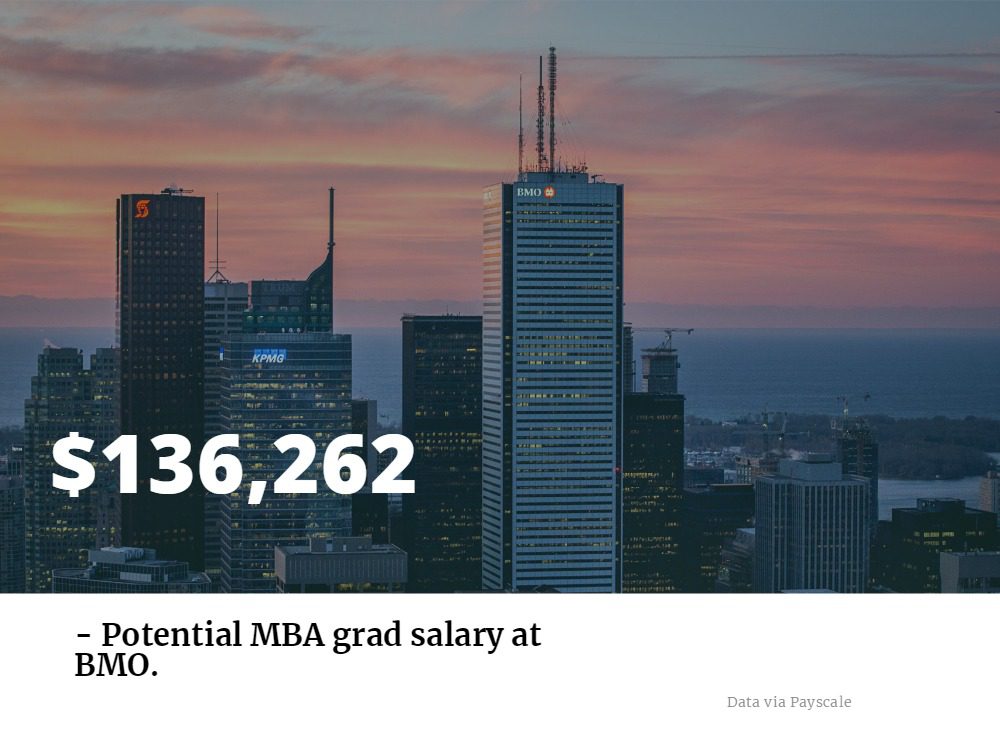 BMO is hiring a Senior Financial Analyst for its headquarters in Toronto. In this role, the new employee will assist with technology and development-related projects. In addition, the person in this position will consolidate information from across various technology and operations groups. This job requires three to five years of relevant experience and an MBA.
The major responsibilities of BMO's Senior Financial Analyst include:
Examining contracts and performing financial interpretation and forecasting
Contributing to the development of control standards
Providing support for key financial initiatives
Visit BMO to see what other positions are available at the company.
Relationship Manager — Credit Suisse
Credit Suisse one of the world's leading wealth management firms. With over 45,000 employees spread across 150 countries, Credit Suisse has trillions of dollars in assets under management.
Credit Suisse is hiring a Relationship Manager for its Sydney office. Working in its private banking department, the employee will acquire and lead client relationships, providing advice on various investment products and services. In addition, the person hired for this job will market leading products to the company's clients. The job requires between three and seven years of relevant prior experience, as well as an MBA.
Major responsibilities of the Credit Suisse Relationship Manager include:
Working toward specific individual, team, and market asset and revenue targets
Serving as a brand ambassador for Credit Suisse
Collaborating with various departments to develop cross-selling opportunities
Visit Credit Suisse to see more of its available positions.
Senior Analyst — McKinsey and Company
McKinsey and Co., one of the world's leading consulting firm, is looking for new analytics. Found in 1926, McKinsey now has 27,000 employees working in 127 offices spread across the globe, providing professional services to various companies and corporations.
The company's new Senior Analyst will work in its Doha office. In this position, the new hire will be providing insights and marketing intelligence for the energy market. Working with the Energy Insights team located in Houston, Kuala Lumpur, and elsewhere, the person will provide data and analytics to assist various players in the energy market. This position requires three to five years of previous experience and an MBA is preferred.
Responsibilities of a Senior Analyst include:
Serving clients
Developing proprietary insights and services
Working with leading oil and gas companies
Visit McKinsey to learn about more available positions.
About the Author